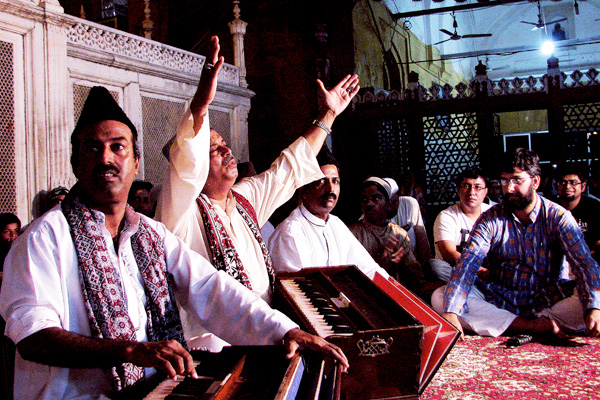 Qawwali Maestros Farid Ayaz (also spelled Fareed Ayaz) & Abu Muhammad are scheduled to perform on Friday November 8th, 2013 at Queen Elizabeth Hall, Southbank Centre in London. Farid Ayaz & Abu Muhammad became a worldwide sensation thanks to the success of their YouTube videos filmed at Pakistan's Coke studios, clocking up over a million views. They also perform a Sufi song in the film of 'The Reluctant Fundamentalist.'
The ensemble's Qawwali music has its roots in one of qawwali's oldest schools, the Qawwal-Bachcha gharana, set up by the legendary musician and poet, Hazrat Amir Khusrau, in 12th century Delhi.
Lead singers, Farid Ayaz and Abu Muhammad, are accompanied by their chorus singers and percussionists, playing dholak, tabla, harmonium and providing the hypnotic clapping that elevates qawwali music to new heights.
Their music sits between the sub-continent's classical (Khyal, Dhrupad and Thumri) and rich folk traditions. Both Farid and Abu go out of their way to explain the layered nuances of the ancient Sufi poetry as well as explaining the traditions of qawwali, a quintessentially spiritual form of music.
Audiences are an essential part of performances as they engage in a dialog with the musicians to shape and uplift the performance – sometimes repeating the couplets and at other times taking the performance in unexpected directions.
Recording available: Soul of the Sufi
Performers
Fariduddin Ayaz – lead singer/harmonium
Abu Muhammad – 2nd lead singer/harmonium
Ghulam Akram – support singer
Ali Akbar – tabla
Gayoor Ahmed Al Hassani – dholak
Chorus – Hamza Khan, Ghulam Mustafa, Shah Blaeeghuddin, Tehseen Fawaad, Zarar Ahmed, Moizuddin Haydar
More details at www.sama.co.uk
Author:
World Music Central News Department
World music news from the editors at World Music Central