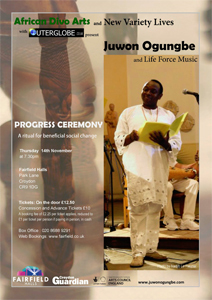 The Progress Ceremony – a social ritual for our times contemporary music theater ritual will be staged on Thursday, November 14th, 2013 at Fairfield Halls in Croydon (UK).
The ceremony is inspired by invocations of praise and worship, song, dances and gestures from the Yoruba belief system. The work aims to present new perspectives on some African heritage values especially the potential for tolerance and change with a healing narrative.
The piece comes alive with Juwon Ogungbe's Life Force Music, a mix of various musical genres, including western pop, African music, classical music and sounds from the African diaspora, performed by some of London's finest musicians.
In a cantor styled role, acclaimed composer Ogungbe leads on keyboards and brightens invocations and tales about Yoruba deities with his bass baritone voice. The experience is developed with visual digital interactions created by Derek Nisbet of Coventry's acclaimed Talking Birds, which draw on worldwide ancient and contemporary Yoruba inspired imagery to magnify the ritual.
The event has a further showing at Coventry University in December where Orisha Dance illustration will be added.
Time: 7:30pm
Tickets: £10 advance / £12.50 OTD
Venue: Fairfield Halls , Park Lane, Croydon CR9 1DG
Box office: 020 8688 9291 fairfield.co.uk
Editor's note: this show was canceled
Author:
World Music Central News Department
World music news from the editors at World Music Central