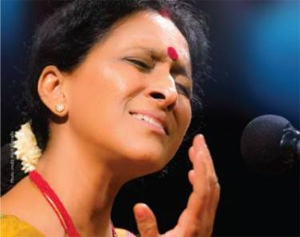 Carnatic singer Vidushi Bombay Jayashri is is set to perform on Sunday, October 20, 2:00 pm at Carnegie Hall. The prestigious Indian vocalist was Oscar nominated for her song featured in the Life of Pi film. Vidushi Bombay Jayashriis will be accompanied by H N Bhaskar on violin, Satish Kumar Patri on mridingam, and Giridhar Udupa on ghatam.
Trained by the Indian violin maestro Sri Lalgudi Jayaraman, Bombay Jayashri represents an emerging generation of musicians. While classically trained and established in the core tradition of her chosen genre of Carnatic music, she has proven herself to be at equal ease performing less traditional works such as the Oscar-nominated Pi's Lullaby, or improvising with a 100-piece symphony orchestra from Finland.
In the conservative world of Indian classical music, Sri Lalgudi Jayaraman was very open to other sounds, listening from Western classical virtuoso Yehudi Menuhin to Scottish folk. And that openness is something Jayashri has carried into her own career, whether singing the pure Carnatic music of South India that's deep in her heart, collaborating with a Finnish orchestra, or being nominated for an Academy Award for writing and performing "Pi's Lullaby" in the movie Life of Pi.
Jayaraman's oustanding student has become an international star in her own right. She's appeared all over the globe, most recently spending time in China. Bombay Jayashri has done plenty of groundbreaking work on her own, too. Her performance, Listening to Life, showcases her ability to move seamlessly between Carnatic and Hindustani classic music, film and light music, singing in various languages-Sanskrit, Telugu, Urdu, Hindi, Kannada, Marathi and Tamil- weaving everything together in a single narrative illustrating her love of music.
Carnegie Hall
Stern Auditorium/Perelman Stage
West 57 Street / 7 Avenue, New York, New York
Tickets: $25 to $55 – Students & Seniors $20
Limited seats for HarmoNYom's Members at a discount
Author:
World Music Central News Department
World music news from the editors at World Music Central