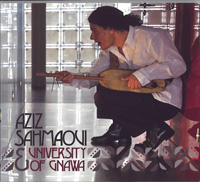 Aziz Sahmaoui
Aziz Sahmaoui & University of Gnawa (Naïve, 2011)
It comes as no surprise that musicians like Jimmy Page, Robert Plant and bassist and producer Bill Laswell have been drawn to the centuries-old musical traditions of the gnawa like moths to the flame. What well-rounded music lover could resist the idea of healing trance music as a means to cure one's ills? The Moroccan born and Paris based multi-instrumentalist and singer Aziz Sahmaoui serves up his take on the gnawa musical tradition on his Aziz Sahmaoui & University of Gnawa, out on the Naïve music label. Deliciously hip, Aziz Sahmaoui & University of Gnawa is chocked full of tasty delights that come across as fresh baked from origins that go back to the pre-Islamic animism rites of Africa.
Starting out in the music business at the tender age of six, previous collaborations with the likes Joe Zawinul and Michael Gibbs and his own group Orchestre National de Barbes, as well as University of Gnawa, Mr. Sahmaoui has built up a reputation of musical collaboration, enfolding in the music of West Africa, jazz and rock into the riches of gnawa music to create a wholly new and exciting musical landscape. Flexing his musical muscles and writing skill, Mr. Sahmaoui gives the listener a selection of his own compositions on Aziz Sahmaoui & Univerity of Gnawa, as well as providing a couple of his own brand of juiced up traditional pieces and a song written by Joe Zawinul.
Opening with the powerfully potent traditional tune "Salabati," Mr. Sahmaoui treats listeners to his own guitar, ngoni and karkabou playing laced with his evocative vocals and some lanky bass rhythms and backing vocals by Alioune Wade and backing vocals by Cheikh Diallo.
Equally delicious is the fiery, high-octane "Kahina" that positively thrums with nogoni, guitar, bendir and vocals by Mr. Sahmaoui, drums by Guilaume Pihet, bass by Aloune Wade, piano by Cheikh Diallo, hard driving cachichi by Amar Chaoui and additional guitars by Herve Samb and Martin Meissonnier. Truly, if this piece doesn't get you going, there's no help for you. Additionally, there are goodies like the trance-inspiring "Alf Hilat," the flashy, feel-good "Black Market," written by Mr. Zawinul and quietly compelling "Rofrane."
Mr. Sahmaoui takes a poke at the establishment with his writing skills and stamps his own social conscience on tracks like "Miskina" or "The Poor." Aziz Sahmaoui & University of Gnawa closes with an extended version of "Maktoube."
Aziz Sahmaoui & University of Gnawa might not cure all your ills, but a healthy dose of this trance healing will have you feeling all right.
Buy Aziz Sahmaoui & University of Gnawa in North America
Buy Aziz Sahmaoui & University of Gnawa in Europe
Author:
TJ Nelson
TJ Nelson is a regular CD reviewer and editor at World Music Central. She is also a fiction writer. Check out her latest book, Chasing Athena's Shadow.
Set in Pineboro, North Carolina, Chasing Athena's Shadow follows the adventures of Grace, an adult literacy teacher, as she seeks to solve a long forgotten family mystery. Her charmingly dysfunctional family is of little help in her quest. Along with her best friends, an attractive Mexican teacher and an amiable gay chef, Grace must find the one fading memory that holds the key to why Grace's great-grandmother, Athena, shot her husband on the courthouse steps in 1931.
Traversing the line between the Old South and New South, Grace will have to dig into the past to uncover Athena's true crime.