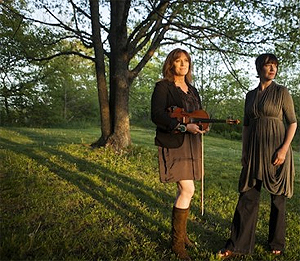 World music platform Mundial Montreal will present "Women Of The World" at L'Astral on November 21, 2013. This evening will showcase the extraordinary talents of Mary Jane Lamond & Wendy MacIsaac, Leela Gilday, Amanda Martinez, and Tanya Tagaq.
Mary Jane Lamond and Wendy MacIsaac are two leading exponents of Canada's Celtic music traditions. Mary Jane Lamond is known for her mesmerizing Gaelic vocals. Wendy MacIsaac is an outstanding fiddle player. These ladies have been making their mark with traditional music fans worldwide for over two decades.
The two remarkable talents have come together to create a true musical partnership that combines their musical sensibilities, their strong Celtic roots, and their colorful personalities. Their album Seinn was released in September 2012 to rave reviews. Their performance begins at 9:00 PM
An impassioned Dene (the Dene is an aboriginal group of First Nations who live in the Northwest Territories of Canada) performer, Leela Gilday connects melody, lyrics and language rooted in her Northern Canadian heritage. From her home in Yellowknife, Northwest Territories, Leela Gilday has developed an international award winning career, with a Juno, Western Canadian Music Award and an Aboriginal People's Choice Award to her credit. Her discography includes Sedze and Calling All Warriors. Leela Gilday's concert will take place at 9:40 PM.
Amanda Martinez is a Toronto-based singer-songwriter whose music blends her Mexican and South African roots with flamenco soul. Her solo CDs have earned her multiple nominations for Latin Jazz Performer of the Year, and her songs have appeared on three Putumayo world music collections, including Latin Dreamland and Cafe Latino.
Martinez has headlined concerts at the 2011 PanAmerican Games in Guadalajara (Mexico) and the 2010 FIFA World Cup in South Africa. Her recordings include Amor and Sola. Her newest CD "Mañana" was shaped by GRAMMY-winning producer Javier Limón (Buika, Mariza) who describes Martinez as "one of the greatest voices in the world." She is scheduled to perform at 10:20 p.m.
The final act on the bill is Tanya Tagaq. She is known for her powerful, evocative vocalizations, based on Inuit throat singing traditions. She helped reclaim the controversial 1922 film Nanook of the North. Tagaq, accompanied by percussionist Jean Martin and violinist Jesse Zubot perform a live complement to the film's silent images of life in an early 20th-century Inuit community in Northern Quebec.
Commissioned by the Toronto Film Festival for their First Nations Film Festival, Tagaq's work with Nanook began with a sonic exploration of the film's imagery, images that spoke deeply to the vocalist. Tagaq's sense of the sound of the Arctic spaces shown in the film transforms the images, adding depth to what is a complex mix of beautiful representations and racially charged stereotypes.
Tagaq's critically-acclaimed albums include Sinaa, Auk – Blood, and the live album, Anuraaqtuq. The concert begins at 11:00 PM
L'Astral is located at Maison du Festival Rio Tinto Alcan, 305 Ste. Catherine St West
For more information, visit mundialmontreal.com/en
Author:
World Music Central News Department
World music news from the editors at World Music Central