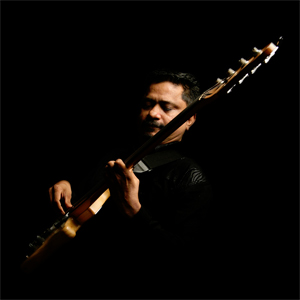 Colin D'Cruz is a versatile bass player who has been involved in numerous ensembles and projects. Some of his most recent projects include Soul Yatra and an Indo-jazz fusion ensemble he put together called The Brown Indian Band.
1) What is your opinion regarding the present jazz scene in Goa?
If there is a jazz scene in India it has to be right here in Goa. Nowhere else in India will you find hundreds of venues that feature live music, many of which host a jazz night at least once a week. Calcutta used to be a jazz hub in the 60's and it shifted to Mumbai in the 80's from where it moved to its rightful home in Goa, considering the amount of Goans who have made their mark in this great form of improvised music.
2) Goa has often been called the Jazz capital of India. Would you agree or disagree with this and why?
Absolutely and I would go even further to call it an international jazz hub. Some of the world's greatest jazz artistes have found a home in Goa, returning every year to enjoy the inspiring environment that our beautiful state offers to just about any creative artist.
I have recorded some phenomenal visiting artists at my studio in Sangolda. And each one of them has helped raise the bar for my band as well as for my studio. Many of these visiting artistes also realize that it is easier for them to get a booking in Goa than back home where live performance opportunities keep getting rarer by the day.
3) Do you receive a lot of Goan audience or is it mostly tourists at your concerts?
One more reason why Goa is an international jazz hub is the fact that local bands often feature international artistes and perform to international audiences. Why go out to the rest of the world when the rest of the world comes to Goa? Goans are generally music loving people and they enjoy any music that sounds like music and if it gets them to dance you've nailed it. Jazz is more of a musician's music and is enjoyed best when you understand the nuances of improvisation, for those who don't; it's the sheer virtuosity of a good performer that blows them away. Very often people meet me after a gig with 'what was that?' and then they answer themselves with 'that was great!'
4) What do you think is the attitude of the youth towards Jazz music?
The youth today are tuned in to DJ's more than into jazz or music performed by bands in general. It's just another phase in the evolution of music and I'll go with the flow without wanting to debate about it. To me music has to be made by a musical instrument, to many it could be made with machines and to each their own!
Technology has made things a lot simpler both in case of performance as well as production. The trick is to harness technology to hone your skills on a musical instrument or vocal chords if you are a singer. I often tell youngsters who ask for my advice to learn a musical instrument before they learn a machine.
3) What is the future of Jazz in Goa?
The future of jazz in Goa like in the rest of the world is wide open. Jazz is the only form of music that embraces all other sounds of music. So there's rock-jazz, pop-jazz, funk-jazz, fusion-jazz, blues-jazz and there will be a -jazz attached to every form of music that comes along. If DJ music is popular today, well there's DJ-jazz!
The most exciting thing about jazz is what comes next with due respect to what happened in the past. Onstage, it is often anticipating your fellow musicians next improvised notes and nailing it in one spontaneous unison phrase. The future is always uncertain but there's one thing for sure, you'll find a new form of jazz sneaking up on you any time and all the time.
You can keep yourself updated with the current jazz scene in Goa at www.jazzgoa.com
Author:
World Music Central News Department
World music news from the editors at World Music Central