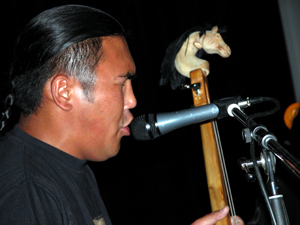 Radik Tulush, the Tuvan throat-singer who performed at the Musicport festival will work with local students before the 2013 edition of the festival.
Tulush is a former member of Yat-kha and current member of the best known tuvan ensemble, Huun-Huur-Tu. Radik performs five different styles of throat-singing and Tuvan traditional songs. He also various traditional musical instruments, including the igil and byzaanchy fiddles, doshpuluur lute, shoor end-blown pipe, khomus jaw harp, and tünggür shamanic drum.
The Tuvan musician released a solo album titled Tyva: Spirits of My Land, where he chronicles his musical reconnection with the spirits during a journey to his family's root place in Tangdy Uula. It includes detailed liner notes by Carole Pegg author of Mongolian Music, Dance, & Oral Narrative.
The 2013 festival takes place Friday, October 18th – Sunday, October 20th at Whitby Pavilion.
More about the festival: musicportfestival.com
Author:
World Music Central News Department
World music news from the editors at World Music Central