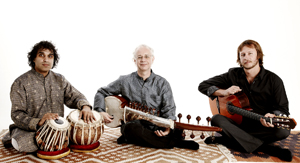 Bobby Singh's last cross-cultural trio collaboration, with kora maestro Mamadou Diabaté and slide guitar master Jeff Lang in the ARIA award-winning Djan Djan, examined the nexus between Indian, West African and blues music. His latest artistic venture explores meeting points between Hindustani and flamenco traditions.
Rasa Duende's debut album could easily net another Australian World Music gong for the most celebrated tabla player down under.
Singh's expertise and sensitivity in the field of acoustic fusion is matched by the skills and subtlety of his band mates, sarod player Adrian McNeil and flamenco guitarist Damian Wright, as manifested in the intricate and thoughtful way their instruments blend and generally interrelate in an outstanding first release.
Rumbas and ragas converge organically in Improvisations. In one of the CD's standout pieces, an ektaal (a rhythmic cycle of 12 beats in Hindustani music) morphs majestically into a bulerias, the fieriest of all flamenco rhythms.
Singh's tabla playing helps bind the different styles. After many years in Mumbai studying under masters of the expressive Indian hand drum, he has developed into an internationally renowned soloist on his chosen instrument, but eschews that role in Rasa Duende. "My job is connecting the cultures," he asserts, adding "and I really enjoy sitting back and just being in the groove."
As specialists and experts in Indian music, Singh and McNeil share an obvious rapport. "I've been performing with Adrian for nearly 20 years in India, Australia and many other countries," says Singh. "He's not only one of the highest regarded Indian classical musicians in the world of non-Indian background but also one of the highest regarded academics of Indian classical music as well."
McNeil took up sarod, a resonant stringed instrument with a slide capacity, some 30 years ago. "Adrian was pretty much the first student in Australia of Ashok Roy, who was a disciple of the world's greatest sarod player, Ustad Ali Akbar Khan," reveals Singh. "Now he's regarded in India as one of the top players of the instrument."
Although tabla doesn't have a natural affinity with flamenco, Singh has discovered a modus operandi that works well for his instrument. "What I do is I learn rhythms on cajon [a box drum compatible with flamenco] and then adapt them to tabla. Both Adrian and I really love flamenco, so when we met Damian we had an instant connection. Damian was very interested in ragas and Indian music."
After regularly jamming together, the trio put on a concert that garnered a "huge" response. "It just sort of led on from there," relates Singh. He explains that Rasa Duende's repertoire has evolved from simply performing together. "Nothing's really staged and contrived because it can't be. It's more about us all looking at what the music and band will represent as a sound rather than crazy soloing. I can do that [soloing], but in the context of what we're doing in Rasa Duende it isn't really necessary. It's more about the feel."
Switching between Indian and flamenco modes isn't that hard, Singh insists, explaining that there are strong cultural ties between the two styles of music. But he's quick to add that it takes time to create the kind of naturalistic music that Rasa Duende is making. "It's very slow cooking; it's not a question of chuck this in, chuck that in and eat it. We're trying to go for something that's completely organic, something that happens spontaneously."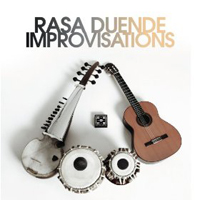 It's appropriate that Singh uses a cooking analogy to stress his point. The trio present a Hindustani cooking demonstration at some of their shows, based on a published paper of McNeil's showing the correlation between methods of cooking Indian food and the melodic universe of a raga. "Pretty much every Indian musician will tell you that if you can't cook you can't play music, and you'll never understand the subtlety between notes," he declares.
The title of Rasa Duende's debut album is not coincidental either. "We had sketches of tracks before we went into the studio to record Improvisations, but we didn't know exactly what was going to happen." Their music becomes more improvisational in live performances. "That's our background," emphasizes Singh. "One of our grand masters used to say if you don't have that element, there's no chance of ever doing something amazing."
Bobby Singh returns to India at least twice a year; last year five times. Adrian McNeil visits the sub-continent at least once a year to perform. Damian Wright, who spent years in Spain studying under maestros before creating his own touring flamenco group (Bandaluzia Flamenco) here in Australia, returns a lot to Andalusia.
• The above interview first appeared in Rhythms — Australia's only dedicated roots music magazine, for which the author is World/Folk correspondent.
Author:
Tony Hillier
Tony Hillier is based in Cairns in far north Queensland, from where he has been actively involved in all areas of the music industry in Australia for the past 25 years, primarily as a journalist, writing for national publications such as the Weekend Australian and Rhythms magazine (for which he is World Music & Folk correspondent), and performing locally, nationally and internationally with the bands Kamerunga and Snake Gully. He has also presented and produced World Music and Folk music programs for ABC Far North, Port Douglas Radio and 4CCR-FM, netting a CBAA Best Specialist Music Program Award with the last-named for a documentary on flamenco. Before coming to Australia, he was a racing journalist of some repute in the UK, where he wrote a column for the London Evening Standard under the nom-de-plume of Ajax.