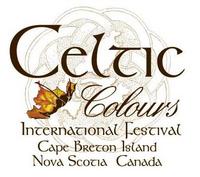 The lineup for the 17th Celtic Colours International Festival in Nova Scotia (Canada) includes a stirring mix of local, national, and international artists, festival favorites and Celtic Colours newcomers.
The award-winning festival will explore musical and cultural connections between Cape Breton and Nordic neighbors from Denmark, Norway, Sweden, Finland and Shetland; pay tribute to iconic Cape Breton performers and culture bearers; and present some of the finest Celtic and traditional musicians, singers, and dancers from around the world. Celtic Colours International Festival includes 46 concerts and more than 200 Community Cultural Events.
The nine-day, Cape Breton Island-wide celebration begins October 11th at the Port Hawkesbury Civic Centre and ends on the 19th at Sydney's Joan Harriss Cruise Pavilion.
"There's something really magical that happens during Celtic Colours," says Artistic Director Dawn Beaton. "It's a time and place for old friends to get together and new friendships to form—both on stage and in the audience. We have some really special artists playing at the Festival for the first time this year, as well as some artists returning who haven't been here in years. It's a very exciting mix."
Familiar names to Celtic Colours audiences include The Barra MacNeils, Ashley MacIsaac, Bruce Guthro, Tim Edey, Nic Gareiss, Liz Carroll, Lennie Gallant, John Doyle, Rona Lightfoot and Dirk Powell. Newer groups include Coig, Nuallan, the Snowflake Trio, The Teetotallers and The Nordic Fiddlers Bloc. This year's Artists in Residence are Kimberley Fraser from Cape Breton and Harald Haugaard from Denmark.
Performing at Celtic Colours for the first time are Breabach (Scotland), David Greely (USA), The Modern Grass (NS), Dry Bones (Manitoba), Peter Uhrbrand (Denmark), Darol Anger (USA), Hazelius Hedin (Sweden), Antti Järvelä and Arto Järvelä (Finland), Väsen (Sweden), North Atlantic Drift (Ontario), and Cape Breton's own Company Road, John Campbelljohn and Kyle Mischiek.
They international artists will join local Festival favorites including Mary Jane Lamond & Wendy MacIsaac, J.P. Cormier, Sprag Session, The Beaton Sisters Band, Dave MacIsaac, Winnie Chafe, Howie MacDonald, Troy MacGillivray, Beòlach, Goiridh Dòmhnallach, The Men of the Deeps, Buddy MacDonald and Cyril MacPhee.
Tributes to Cape Breton fiddlers Alex Francis MacKay and Joe Peter MacLean, the songs of the Rankins, and to both the Cape Breton Fiddlers' Association and the Cape Breton Chorale, who are celebrating 40th anniversaries this year, are scheduled alongside new concerts celebrating dance traditions and night life in the 18th century at Fortress Louisbourg.
There will also be a full complement of Community Cultural Experiences including dances, meals, sessions, workshops, lectures, exhibits, outdoor activities, farmers markets and more.
Author:
World Music Central News Department
World music news from the editors at World Music Central