Collaborations between American rock stars and musicians from Third World African nations can result in cultural imbalance. The liaison between the Black Keys' Dan Auerbach and Omara 'Bombino' Moctar, a singer-guitarist from the Sahara-subsumed country of Niger, is definitely not a case in point.
Prior to accepting an invitation to make his new album, Nomad, with Auerbach in Nashville, Bombino had never recorded in a proper studio before. He was unaware of the Black Keys or their music until his manager suggested they head States-ward to cut the follow-up to 2011's Agadez, the release that introduced him to a Western audience.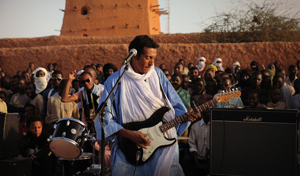 The decision's been well and truly vindicated, with the Keys' Grammy Award-winning producer/guitarist having succeeded in boosting Bombino's international reputation and appeal without compromising the Tuareg's bedrock desert blues sound or his uninhibited guitar playing. The urban groove and production muscle gained by recording in the US with a local crew has helped net Bombino a string of dates in the States, a world tour and a list of festival engagements that's tipped to include a berth at the 2014 Byron Bay Bluesfest.
In an interview conducted with the assistance of an interpreter via email, the North African expressed his delight at the turn of events. "Recording in Nashville with Dan was a tremendous first studio experience for me and my band." Bombino describes the ambience as "fun and relaxed" and something that he says he'll always remember with fondness.
Bombino says he was very happy with the approach that Auerbach adopted, especially the producer's suggestions to add keyboard and percussion to many tracks, and pedal steel guitar and vibraphone specifically to songs such as 'Tamiditine' and 'Imuhar'. The rhythm beds were recorded like a live performance, to which Bombino added layers of serpentine guitar lines and reverb-laden vocals. The visitor was much impressed with Auerbach's local crew: "Everyone contributed very nicely. I love the colours that these instruments and these great musicians gave to the album," he says.
Linguistic barriers between he and Auerbach presented few problems. "My manager speaks English and French, so he would translate, though after a couple of days translation was hardly necessary," says the newest star from the seemingly ever-growing Saharan firmament, explaining: "We could do all of our work almost without words … there was a very good connection and a great energy in the studio between us."
Bombino says his new songs discuss "hardship and the need for solidarity, peace, brotherhood and maintaining Tuareg culture as we go further into a modernized world". He admits these are difficult times in the sub-Saharan region, but points out that almost all Tuaregs strongly reject the Islamic extremists. "It's very important for the world to understand this," he stresses. "We're in favor of peace and freedom and tolerance. We've none of the same goals as the extremists."
Other Tuareg bands have influenced Bombino's style, most profoundly Tinariwen: "I grew up listening to them and idolizing them. Ibrahim Ag Alhabib's a very big influence and inspiration for me. He's the father of Tuareg music today, you could say. The other African artist that influenced me the most is the great Ali Farka Touré from Mali, his music and the way he lived his life for his people."
Bombino has also listened to some of the old Mississippi Delta blues recordings. "You can easily hear the relationship between Africa and America in the blues," he says. The guitarist's playing style, though, perhaps owes as much to rock, with Jimi Hendrix and Mark Knopfler obvious references. He also professes to be a Black Keys fan now.
As with many Tuaregs, music is at the center of Bombino's life. "It's my medicine and it's my nourishment. It's my protector and also my joy." Leaving little doubt that he's particularly enjoying making music with his current band, he says: "It's very exciting to see the fruits of all of our efforts, not just in the studio but also on tour in the last couple of years. It's been a lot of hard work and there have been difficult times, but now I feel like we're enjoying the rewards a bit. I'm looking forward to a very big year."
Bombino's especially looking forward to taking back copies of Nomad to give to friends and family in Niger. "I'm sure soon you will see it in the hands of pirates everywhere and on the radio … it's like that at home," he says philosophically.
• The above interview first appeared in Rhythms — Australia's only dedicated roots music magazine, for which the author is World/Folk correspondent.
Discography: Group Bombino – Guitars from Agadez, vol. 2 (2009), Agamgam 2004 (2010), Agadez (2011),
Nomad
More about Bombino
Author:
Tony Hillier
Tony Hillier is an Australia-based freelance music writer, broadcaster, musician, MC and band leader. He writes album and concert reviews and feature articles for The Australian (the country's only bona fide national newspaper) and Rhythms (Australia's only dedicated national roots music magazine) and prepares/presents weekly programs for the national broadcaster (ABC) and community radio. He is also a member of the Transglobal World Music Chart (TWMC) panel.