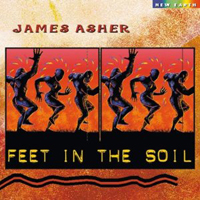 James Asher
Feet in the Soil (New Earth/Music Today, 2002)
This hit album by the prolific world music artist James Asher has a sharp focus on the aboriginal instrument, didgeridoo. The 11 tracks make for an hour of excellent listening, and open new musical frontiers for listeners.
Feet in the Soil features James Asher on percussion and keyboards, Rory Baxter on didgeridoo, Volker Grun on guitars, Melanie Hurn on flute and Claudia Booth on vocals. Be sure also to check out James Asher's collaborations with Indian percussion guru Shivamani.
Buy Feet in the Soil
Author:
Madanmohan Rao
Madanmohan Rao is an author and media consultant from Bangalore, and global correspondent for world music and jazz for World Music Central and Jazzuality. He has written over 15 books on media, management and culture, and is research director for YourStory Media. Madan was formerly World Music Editor at Rave magazine and RJ at WorldSpace, and can be followed on Twitter at @MadanRao.