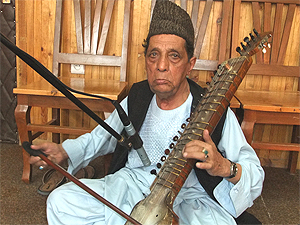 The master musicians of Safar (journey) and their students will play traditional instruments in a joint concert with German jazz musicians. The event will take place today, Tuesday, August 27 at 14.30 GMT (10:30 am Eastern Standard Time, 16.30 CET). RBB Kulturradio (Germany) will webcast this unique 90-minute live concert.
Three Berlin jazz musicians and five masters of traditional Afghan music have grouped in this unusual project. Their intention is to promote the rarely-heard music of Afghanistan and to draw attention to the cultural richness of the country.
Under the Taliban regime (1996-2001), music in Afghanistan was forbidden. Musicians were persecuted, their instruments were destroyed, and many escaped into exile. However, since 2001, several master musicians have returned to their native land, working with the Afghanistan National Institute of Music (ANIM) and the Aga Khan Music Initiative (AKMI). Their intention is to revive the rich traditions of Afghan music and pass them on to the next generation. With the support of these master musicians, today's young artists will play a key role in the continuity cycle of traditional music in Afghanistan.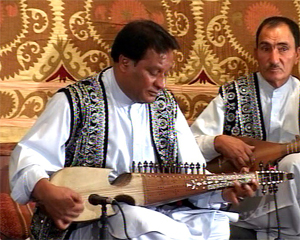 At ANIM, teenagers practice on the rubab lute with its 15 shimmering sympathetic strings. They learn the dilruba harp, whose name translates as 'the robber of the heart'.
One of the last dilbruba masters in Afghanistan is Ustad Amruddin, a revered artist of uncertain age. He is among the few master musicians from the pre-Taliban time who returned to Afghanistan. Ustad Amruddin is now part of the Safar ensemble.
In the summer of 2012, the Safar ensemble toured Germany, and now Safar continues its activity in Afghanistan's Hindukush mountain chain. Safar will celebrate the richness and wealth of reemerging cultural joy in this country, struggling for its future.
The Safar concert is a joint project of the Hochschule für Musik Franz Liszt Weimar (Academy of Music) ANIM and AKMI, with the aim of strengthening cultural understanding between Germany and Afghanistan.
The musicians:
Afghanistan:
• Ustad Ghulam Hussain, rubab
• Ustad Amruddin, dilruba
• Mohammad Ehsan Irfan, tanbur
• Abdul Latif, dole drums, flute
• Ustad Fraidoon, tabla
• Students from ANIM Master classes:
Ahmad Samim Zafar, Samihullah Sarwari, Rohullah Baqizada & Mustafa Darwishy
Germany:
• Christian Kögel, guitar
• Jan Burkamp, drums, percussion
• Oliver Potratz, bass
To view the concert go to 2see.euroradio.org and log in/register. You will then be able to access the content
The webcast will also be available at kulturradio.de
Author:
World Music Central News Department
World music news from the editors at World Music Central