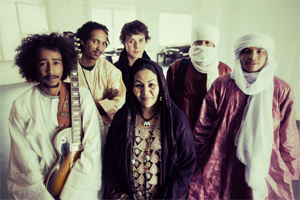 Two new music videos by Tamikrest, one of the most exciting bands in the Tuareg music scene, provide a sampling of the band's new album, scheduled for release in September 2013. "Chatma", Tamikrest's third recording is filled with sober reflection, moral outrage, musical exploration, cultural celebration and the vibrancy of rock music.
"Chatma" is also Tamikrest's first album to be entirely composed around a defined theme. In Tamashek, the Tuareg languge, "Chatma" means "sisters" and the band has dedicated the album in their own words to: "the courage of the Tuareg women, who have ensured both their children's survival and the morals of their fathers and brothers."
The opening track "Tisnant an Chatma (The suffering of my sisters)" is a heartbreaking tribute: Who can estimate the suffering felt by the soul / of one who sees her sisters exhausted from waiting/ of one who sees her sisters exhausted from waiting between countries, in deep distress /and daily oppression?
"Chatma" also presents Tamikrest's most wide-ranging musical statement to date. The infectious, sing-along rock stylings of "Imanin bas zihoun", the acoustic seduction of "Adounia tabarat", the Pink Floyd influenced collage "Assikal" and the lush, melancholy ambiance of the album's finale, "Timtar", all add up to a sustained audio adventure. Chatma offers traces of dub, blues, psychedelia, funk and even art-rock.
Female vocalist Wonou Walet Sidati plays an important role together with lead vocalist Ousmane Ag Mossa. A new guitarist, Paul Salvagnac has also joined the band, adding new possibilities.
Tamikrest means "crossing" in the language of the Kel Tamashek, a traditionally nomadic Saharan people that are commonly referred to as the Tuaregs. Since the band emerged onto the international scene four years ago with their debut album "Adagh", they have been traveling and touring between the Sahara and Europe.
Originally based in Kidal, in the northeast of Mali, as the result of ongoing war, persecution and political collapse, most of the band now lives in exile in Algeria.
Buy Chatma in North America
Buy Chatma in Europe
Author:
World Music Central News Department
World music news from the editors at World Music Central