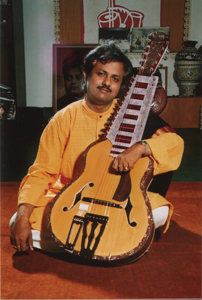 Indian slide guitar maestro Debashish Bhattacharya will be touring the United States of America during September and October 2013. The renowned artist will be presenting material from his recent fusion album titled Beyond The Ragasphere. The recording features guitar marvels such as John McLaughlin and Jerry Douglas
Debashish Bhattacharya was born in 1963 in the city of Kolkata (Calcutta). He is one the finest performers of the slide guitar. He still lives in Kolkata, tours internationally and has received numerous awards and accolades.
Beyond The Ragasphere introduced Debashish's talented daughter Anandi on vocals. She also appears on Debashish's latest Indian classical music album, Madeira.
USA Tour Dates
7 September – Ellnora Guitar Festival, Champaign, IL, USA
13-14 September – Chicago World Music Festival, Chicago, IL, USA
15 September – Cedar Cultural Center, Minneapolis, MN, USA
16-18 September – Performing Arts Foundation, Wausau, WI, USA
28 September – St. Edwards University, Austin, TX, USA
11 October – Discover Auditorium, Anchorage, AK, USA
Author:
World Music Central News Department
World music news from the editors at World Music Central