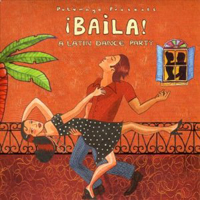 Various Artists
Baila: A Latin Dance Party (Putumayo, 2006)
It is hard to go wrong with a compilation of Latin dance hits, and this stellar album delivers some of the best party tracks. It features salsa, cumbia, and merengue mixed with contemporary dance beats and rhythms. From Cuba to Colombia and Argentina to New York, the tracks on this album absolutely sizzle.
The album begins in fine style with "Mua Mua Mua" by Raul Paz. Colombian band La-33 brings back the high energy of ska, and Californian band Yerba Buena delivers a superb contemporary feel. Latin-inspired bands from Sweden and Belgium are also featured, as are Senegalese salsa supergroup Africando All Stars. This album certainly belongs on every party animal's music shelf and iPod.
Buy Baila: A Latin Dance Party
Author:
Madanmohan Rao
Madanmohan Rao is an author and media consultant from Bangalore, and global correspondent for world music and jazz for World Music Central and Jazzuality. He has written over 15 books on media, management and culture, and is research director for YourStory Media. Madan was formerly World Music Editor at Rave magazine and RJ at WorldSpace, and can be followed on Twitter at @MadanRao.