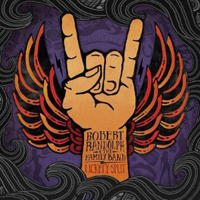 Robert Randolph & The Family Band
Lickety Split (Blue Note, 2013)
Looking for a cure for that mid-summer ennui, well, look no further than Robert Randolph & The Family Band's Lickety Split. With previous recordings that include Live at the Wetlands, Unclassified, Colorblind, We Walk This Road and another 2013 release Robert Randolph Presents: The Slide Brothers, Robert Randolph & The Family Band pool a collection of songs on Lickety Split that are ripe with searing pedal steel lines and equally searing vocals. Brimming over with a savage joyfulness, Lickety Split is roughhouse amalgam of rock, funk and rhythm & blues built on a foundation of a 1920's American, House of God tradition known as "sacred steel."
Mr. Randolph says of this recording, "My thing is really upbeat, uptempo, with great guitar riffs, but also catchy choruses and lyrics that someday will make this music into classic tunes."
But this recording was a long time in coming after three years without a studio recording. Mr. Randolph explains, "We just weren't being creative musically. Being on the road 280 days a year, you wind up playing too much and it isn't fun anymore. Soon, you stop being that concerned about how good you can be, how important it is to create and write. You kind of lose sight of that, of being focused on your craft and spending time with your instrument. I've become more in love with my guitar now, and staying relaxed and practicing and trying to create different sounds."
While family members, drummer Marcus Randolph, bassist Danyel Morgan and singer Lenesha Randolph along with vocalist and guitarist Brett Haas, round out The Family Band, Lickety Split is packed with heavy hitters, including Trombone Shorty, Carlos Santana, engineer Eddie Kramer (Jimi Hendrix and Led Zeppelin) and mixer Jim Scott (Tedeschi, Trucks). Guitarist Eric Krasno, organist Dwan Hill, keyboardist Jason Crosby, guitarist Adam Smirnoff and backing vocalist Bekka Bramlett round out LLickety Split's extraordinary sound.
Robert Randolph & The Family Band wow listeners from the opening notes of the super charged "Amped Up." And, it just gets hotter with the slick slide of "Born Again" and the dreamy loveliness of Ms. Randolph's vocals on "New Orleans." How anyone could sit still through "Take the Party" with the fiery brassiness Trombone Shorty against the pedal steel is just beyond me. Slick, sassy and infectiously energetic, Lickety Split is a joyous ride on a runaway train. Other goodies include the hard driving title track "Lickety Split," the bluesy "Blacky Joe" with Carlos Santana, the feel good ride that's "Love Rollercoaster" and "Good Lovin.'"
Mr. Randolph admits that "Lickety Split" is his favorite, noting, "What's great about that one is that it's something we actually played in church, just like that. There's a section in the service called the 'Jubilee Jam Session Time,' and I can show you video where we played that very same riff."
Mr. Randolph goes a step further than the music by taking on the task of remodeling a school in his hometown of Irvington, New Jersey, with the intent of opening the Robert Randolph Music and Arts Program.
He explains, "There hasn't been any arts in the schools period, since I was in high school. So my whole motivation changed to a full-on effort to get these kids into music, and also find out what other passions they have and try to offer that. These kids don't have anything to do, they don't have any hope."
He says of rededicating himself to his music and his new venture, "Now we have the chance to present the music right, and have the story told right, and for me to be focused on being an ambassador for inner-city kids and a role model, and also an ambassador for my instrument and as an artist. As all these things happened, it got fun again."
Finding and unearthing that inner joyfulness never sounded so good as it does on Lickety Split.
Buy Lickety Split
Author:
TJ Nelson
TJ Nelson is a regular CD reviewer and editor at World Music Central. She is also a fiction writer. Check out her latest book, Chasing Athena's Shadow.
Set in Pineboro, North Carolina, Chasing Athena's Shadow follows the adventures of Grace, an adult literacy teacher, as she seeks to solve a long forgotten family mystery. Her charmingly dysfunctional family is of little help in her quest. Along with her best friends, an attractive Mexican teacher and an amiable gay chef, Grace must find the one fading memory that holds the key to why Grace's great-grandmother, Athena, shot her husband on the courthouse steps in 1931.
Traversing the line between the Old South and New South, Grace will have to dig into the past to uncover Athena's true crime.