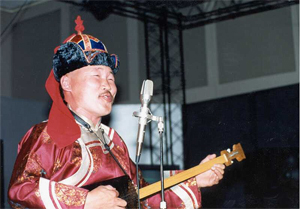 Renowned Tuvan throat singer Kongar-ol Ondar passed away July 25, 2013 in Kyzyl, the capital of the central Asian Tuva Republic (Russia). He died after emergency surgery after he suffered a brain hemorrhage.
Kongar-ol Ondar was born in 1962 near the Hemchik River in western Tuva. As a child, he was taught the basics of throat-singing by his uncle. "Throat-singing is a tradition of Tuva that is very old," said Ondar. "it is inspired by the beautiful landscape of Tuva, which is full of sounds — the windswept open range with grazing livestock, the mountain forests full of birds and animals and the countless streams tumbling out of the mountains onto the open range to form mighty rivers. Our throat-singing has been passed down for countless generations. It is the immortal part of ourselves."
By 1980, after completing his primary education, Ondar had already begun his career as a professional singer, employed by the Tuvan House Of Culture. He later became the featured singer with the popular local group, the Cheleesh Ensemble. In late 1983, Ondar was drafted into the Soviet Navy. While stationed on Siberia's Kamchatka Peninsula, he suffered a broken neck while loading hundred pound bags of sugar and, after 45 days in sick bay, was honorably discharged.
Ondar returned to Tuva and studied at the Kyzyl Pedagogical Institute. He became a Russian language teacher. Nevertheless, Tuvan music was still his passion. "As I am a Tuvan, I believe that throat-singing is in my blood," affirmed Ondar. "When I was a boy, I would go every summer high into the mountains to stay with one of my mother's uncles. There, in the evenings in the camp, I would hear the old man sing to himself. He would have a few drinks of arak — the local brew made from fermented goat's milk — and sing two, three or even four notes at once. Later, at school, I sang and sang and sang, until I got it, too."
In 1985, Ondar formed the Tuva Ensemble. By the early 1990s Ondar's reputation had extended eyond Tuva's borders. The group performed in Europe and was the winner of the UNESCO-sponsored International Festival of Throat-Singing.
In 1992, the Tuva Ensemble had a successful tour of the Netherlands and recorded its first album, Tuva: Voices From The Land Of The Eagle for world music label PAN Records.
Ondar found himself in demand for a diverse range of globe-spanning projects. In 1993 alone, he performed and recorded with The Kronos Quartet, for their album Night Prayers.
In 1994, Ondar joined forces with San Francisco musician Paul "Earthquake" Pena to record a groundbreaking blend of throat-singing and blues, titled Genghis Blues.
Russian Federation President Boris Yeltsin named Ondar a National Artist Of Russia. Additional accolades, awards and albums followed, including the 1995 release Echoes Of Tuva.
He appeared on the Béla Fleck and the Flecktones albums Outbound, Live at the Quick, and Jingle All the Way. He also released one album on Warner Brothers Records titled Back Tuva Future (1999).
Author:
World Music Central News Department
World music news from the editors at World Music Central