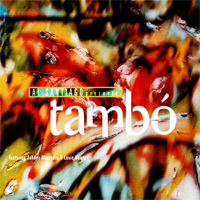 Al Santiago presents
Tambo (Rykodisc, 1998)
Al Santiago is one of the giants of salsa music, right up there with as a promoter and conductor with legends Johnny Pacheco, Charlie Palmieri, Eddie Palmieri, Orlando Marin, and Willie Rosario. The 11 tracks on this album are widely regarded as a milestone in New York salsa.
This is serious hipshaking music, with complex rhythms and catchy melodies, though the recording quality could have packed more depth and range. Our picks include the tracks Mientras Yo Viva, and Tus Ojos; Tin Tin Deo and the classic Night in Tunisia are also notable.
Al Santiago is unfortunately no longer with us, but his music lives on through his voluminous recordings.
Buy Tambo
Author:
Madanmohan Rao
Madanmohan Rao is an author and media consultant from Bangalore, and global correspondent for world music and jazz for World Music Central and Jazzuality. He has written over 15 books on media, management and culture, and is research director for YourStory Media. Madan was formerly World Music Editor at Rave magazine and RJ at WorldSpace, and can be followed on Twitter at @MadanRao.