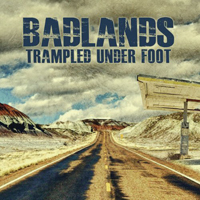 Trampled Under Foot
Badlands (Telarc/Concord Music Group, 2013)
Possessed with a juke joint soulfulness against a home town rock band sensibility, the rock/blues group Trampled Under Foot's latest offering Badlands, out on the Telarc/Concord Music Group label on July 9th, kicks the blues down the street, around the corner and across town and oh, boy, is it sweet. With previous recordings like Wrong Side of the Blues, The Philadelphia Sessions and May I Be Excused under their collective belts, as well as a 2008 first place spot at the 24 International Blues Challenge at the Memphis, Tennessee Blue's Foundation, this sibling trio of bassist and vocalist Danielle Schnebelen, guitarist and vocalist Nick Schnebelen and drummer and vocalist Kris Schnebelen travel down a musical path that has been part and parcel of their family tradition.
Nick explains the family connection in growing up in Kansas City Missouri, "Our dad was in bar bands but he was also recognized as a great blues guitar player. He'd take us to blues jams where we'd meet some real old school artists and hear a huge cross section of roots music."
For Badlands, the trio teamed up with producer and percussionist Tony Braunagel, who also just happens to be the drummer for Phantom Blues Band, as well as Bonnie Raitt and Etta James keyboardist Mike Finnigan, acoustic guitarist Johnny Lee Schell who also recorded the album, backing vocalist Lisa Swedelund and John Porter who mixed the recording at his New Orleans, Louisiana studio.
Nick says of the collaboration, "Tony Braunagel is awesome. He's the guru guy. He has a blues crew. They've all been playing together for 20 plus years. We came on their team. I was excited about the star quality of the guys on the album, but their musical ability let us really dig in. Mike Finnigan plays more piano and organ and Rhodes than he did on the last record. That makes the record shine so much more."
He goes on to add, "Everyone's writing ability came up. And there's a grittier guitar on this record that I'm excited about. We don't pick one style of rock blues. There's gospel and full-on dirty blues. There's also a danceable quality."
Opening with "Bad Bad Feeling," Badlands right off the bat exudes a kickass coolness that is brimming over with fiery guitar licks, thrumming, toe-tapping rhythms and vocals that sound as if they bubbled up from the earth. And Badlands just gets better with tracks like the gospel tinged "Dark of the Night," the bold "Don't Want No Woman" and the dark and sultry "Mary." Title track "Badlands" is equally delicious with its low slung backing beat and slick vocals, as is the guitar goodness of "Down to the River," but it is Danielle that turns tracks like "You Never Loved Me" and "Two Go Down" into real gems. Emotionally saturated with enough of a kick-in-the-pants, Hey-Buddy-she's-singing-about-you edginess, Ms. Schnebelen's vocals will have you rolling over, sitting up pretty for Mama and begging for more. Fans need no more proof than her soul stirring vocals on closing track James Brown's "It's a Man's, Man's, Man's World."
Nick explains, "That song has always been propelled by such a large band, and they have a huge horn section with strings on it too. I think it's awesome. Midwestern guys don't get a lot of funk influence, but we got that going on. I was a huge James Brown fan. I decided to make it stark and bare and Danielle shines over the top. For this song, it's about her vocals. That's Danielle in her essence."
Kris adds, "It's a legendary tune and I just lay back on it. I just try to support it and let her put it all out there. She's such a talented performer."
Danielle explains her approach this way, "I'm really passionate about the blues and about music. My lyrics are really personal to me; I'm like an open book. I'm always honest about music, and I hope I can inspire people. I want the listener to get something out of it. I want the audience to have a good time dancing and laughing with me while I take them on a journey."
Badlands is indeed a journey – a badass, rip roaring romp with the blues. What could be better than that?
Buy Badlands
Author:
TJ Nelson
TJ Nelson is a regular CD reviewer and editor at World Music Central. She is also a fiction writer. Check out her latest book, Chasing Athena's Shadow.
Set in Pineboro, North Carolina, Chasing Athena's Shadow follows the adventures of Grace, an adult literacy teacher, as she seeks to solve a long forgotten family mystery. Her charmingly dysfunctional family is of little help in her quest. Along with her best friends, an attractive Mexican teacher and an amiable gay chef, Grace must find the one fading memory that holds the key to why Grace's great-grandmother, Athena, shot her husband on the courthouse steps in 1931.
Traversing the line between the Old South and New South, Grace will have to dig into the past to uncover Athena's true crime.