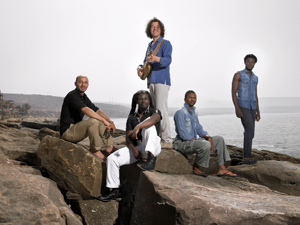 Moroccan multi-instrumentalist and singer Aziz Sahmaoui will tour the United States and Canada in July 2013 along with his band University of Gnawa. Sahmaoui worked with legendary jazz and world fusion keyboardist Joe Zawinul and leads his own groups, Orchestre National de Barbes and University of Gnawa.
Based in Paris, Sahmaoui is known for his fusion of traditional Gnawa music with jother musical forms.
The University of Gnawa combines gnawa (the healing trance music from Morocco), with West African music, jazz, and rock. Sahmaoui and his University bandmates (most of them from Senegal) build on the rhythmic trance idea that's at the heart of Moroccan gnawa tradition and turn it into a global experience, intoxicating and addictive.
"Music is love," Sahmaoui explains "and love is always great, it's always the pinnacle. We all possess a language that allows us to see and understand the profundity of the other, something that goes beyond listening and watching, work, trade…venturing beyond what we know can take us into a new world."
At six, Aziz Sahmaoui joined one of the local groups and was initiated into the rhythms of gnawa. His first instrument was a guitar that sprang "from my imagination, and I fell into the magic of the language of string instruments."
After backing several Moroccan superstars as a young man, he decided to try his luck in Paris, becoming one of the founders of the celebrated Orchestre National des Barbès, a group that broke down the barriers of African music and became a huge sensation in the 1990s. Their debut disc sold 100,000 copies.
From there, Sahmaoui delved into jazz, playing with luminaries like Michael Gibbs before Joe Zawinul, keyboard player with the legendary Weather Report, asked him to become a member of the Zawinul Syndicate, an ensemble that continues to this day. Sahmaoui made his debut on the live CD Vienna Nights.
"There's beauty in the union of two different musics," Sahmaoui reflects. "A language that's Maghrebi and Senegalese, and strong together. There's never been any calculation about what we do, it was born naturally out of friendship, and things found their own level spontaneously, just from the pleasure of playing together. As musicians we're gathered around a musical culture that's guided by the same spirit, we're in the same space."
Tour Dates:
21 July – Montreal at Nuits d'Afrique
24 July – Cleveland at Cleveland Museum
25 July – Chicago / TBD
26 July – Los Angeles at Grand Performances
27 July – Calgary at Folk Fest
28 July – Calgary at Folk Fest
31 July – New York City, Outdoor Stage Lincoln Center
Author:
World Music Central News Department
World music news from the editors at World Music Central