One of the many interesting features of the Rainforest World Music Festival in Malaysia is the daily press meets featuring groups of musicians and the media. This allows for a healthy cross-pollination of ideas and the examination of controversial issues, along with opportunities for spontaneous jams between the musicians!
The 16th edition of the festival, held recently in Kuching, Sarawak, featured over 20 bands including Nunukul Yuggera (Australia), Chet Nuneta (France), Rafly Wa Saja (Indonesia), Mohsen Sharifian (Iran), Pine Leaf Boys (USA), Alp Bora (Austria/Turkey), Palsandae (Korea), Habadekuk (Denmark), Spiritual Seasons (Ukraine), Dizu Plaatijes (South Africa), Rey Vallenato (Colombia), Kries (Croatia), Kila (Ireland) and several bands from host country Malaysia: Shangyin Chinese Chamber Ensemble, Rhythm in Bronze, Madeeh, Lan E Tayang, Juk Wan Emang and Gema Group.
Environmental protection
Indonesian group Rafly Wa Saja said they have a number of songs advocating preservation of nature while also enjoying the fruits and splendor of nature; they are part of a movement advocating against excessive mining in the region, and mobilized during the Asian tsunami as well.
"We have a song called Pygmy Blues which advocates against deforestation that threatens local environments," the French band Chet Nuneta said.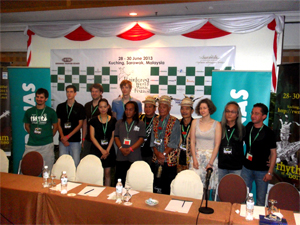 Some topics the musicians stayed away from were the recent forest fires in Indonesia which have caused tremendous pollution in southeast Asia, and drawn sharp reactions from countries like Singapore. There have been heated discussions in the media about how to reduce the causes of these forest fires, providing better livelihood options for local farmers, and identify the companies and agents who have directly or indirectly caused the fires – but the musicians preferred to steer clear of these issues.
Some journalists also called for a petition to preserve the rainforests and ban all forest fires in the region, and the Australian aboriginal band agreed to sign up.
Cultural preservation
Malaysian oil company Petronas announced sponsorship grants for traditional music group Lan E Tuyang to preserve cultural forms based on the sape, an indigenous string instrument of the Orang Ulu tribe.
"Young people want to play guitar rather than sape," observed some musicians from Sarawakian tribes; some journalists asked if the time was ripe to put local tribal music on the UNESCO heritage list.
Malaysian group Juk Wan Emang preserves the unusual way of performing the flute through the nose. "We play it through the nose rather than the mouth because that's the way it has been played for generations, and that makes it more exclusive," the musicians joked, as their 71-year old flautist played a tune on the nose flute.
The aboriginal music and dance group Nunukul Yuggera from eastern Australia preserves endangered traditions whose roots go back to over 150,000 years. "Our music also gets youth off the street and off drugs, and helps them focus on culture for fun and preservation," the group explained.
Korean group Palsandae said they showcase the shamanist influences on farmers' music, though performer Song Lee joked that it may not draw as much a crowd as Korean rapper Psy with Gangnam Style!
Creativity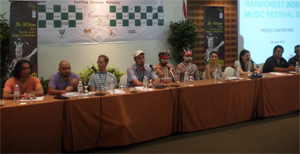 Danish group Habadekuk said they add to the dance component of their Danish music by layering other kinds of dance music from around the world such as salsa. "The aim is the same: drink schnapps, go crazy, enjoy the music, and dance your feet off!" the band joked.
They explained that their folk music over the centuries has been changing anyway with new influences. "We don't want to play museum music. We want to bring the spices and herbs from around the world and mix it with our ideas," said frontman Kristian Bugge.
"We also change our folk compositions to make it appeal to a new audience," said Ukrainian group Spiritual Seasons, and Sarawak group Juk Man Emang said they are working with a symphonic orchestra.
The Shangyin Chinese Chamber Ensemble from Sarawak plays local, Malay and Chinese songs on traditional Chinese instruments as well as the sape string instrument.
Ray Vallenato from Colombia normally plays vallenato and cumbia in traditional acoustic lineups (with percussion instruments such as caja vallenata), but add electric instruments when they play overseas at big festival venues.
Dizu Plaatijes and Ibuyambo Ensemble play neo-traditional music from Southern Africa, and also music from other parts of eastern Africa. Many of their instruments are handmade, such as the mouth-bow.
The Festival is now in its 16th year, leading some regulars and organizers to call for a 'theme song' to be composed and performed by the featured bands. "We would love to play with the French girls," the male members of the Irish band Kila joked, referring to the French group Chet Nuneta.
Political change
Some of the bands at the Festival said they were challenging conventional practice, such as Rhythm in Bronze, an all-woman gamelan ensemble (normally featuring only men), blending Western music with their traditional compositions.
Dizu Plaatijes addressed the legacy of Nelson Mandela in the culture and music of South Africa; the music troupe was personally nominated by him to represent the country at festivals overseas such as in Japan. Mandela himself was a concertina player and worked as a miner before embarking on his political career; the 27 years doing hard labor in prison exposed him to stone dust which is probably the cause of his lung problems now, according to Plaatijes.
Plaatijes also thanked the audience for showing their love for Mandela, and recalled how international pressure helped lead to the unraveling of apartheid.
Ironically, musicians face a new challenge now in free South Africa, said Plaatijes – the airwaves play too much American music and not enough local sound! The political situation in South Africa also needs more improvement, he advocated.
Author:
Madanmohan Rao
Madanmohan Rao is an author and media consultant from Bangalore, and global correspondent for world music and jazz for World Music Central and Jazzuality. He has written over 15 books on media, management and culture, and is research director for YourStory Media. Madan was formerly World Music Editor at Rave magazine and RJ at WorldSpace, and can be followed on Twitter at @MadanRao.