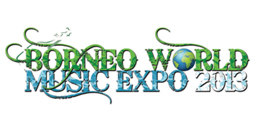 Sarawak (Malaysian Borneo) will host two major international world music events in the coming days. The state capital, Kuching, will host the inaugural edition of the Borneo World Music Expo, a trade show for professionals within the international music scene.
The Borneo World Music will take place from June 24 through June 26. This new event will be happening just a few days before the renowned Rainforest World Music Festival which will be held on the June 28-30.
The goal of the Borneo World Music Expo (BWME) is networking, information dissemination and business behind the entertainment industry – concentrating on the World Music genre. The Expo seeks to be the market place where professionals come to present their services or to hire.
The Expo, guided by the knowledgeable hands of Gerald Seligman, who was until November of 2009, General Director of WOMEX, has selected and invited programmers from all over the world to come to Sarawak Borneo where several showcase bands from Eastern and Asian regions are going to present their performances.
The Expo is also open to anyone who wants to network and share, distribute their press kits, create more awareness of their own music events, meet and extend their contacts. It seeks to be the open arena for everyone in the music industry to use it as a meeting place.
In addition to the trade show, the expo includes daytime conferences that are informative and educational. The panels will feature experienced professionals discussing aspects of the music industry and brainstorming discussions.
"I am coming to Sarawak with the hope of discovering new artists, traditions and cultures from Asia. Southeast Asia in particular is underrepresented in the US performing arts field and I hope to be able to make connections with artists, presenters, agents, and sponsors to begin bridging that gap," says Isabel Soffer founder of Live Sounds from New York.
"Asia's rich musical tapestry needs to be featured much more in world music programming," comments Sonya Mazumdar, Founder/CEO of EarthSync, a world music production house from India and an invited programmer. "A conscious effort is needed to create relevant platforms for collaborations and markets to showcase both traditional and contemporary acts"
The expo is supported by Malaysia Convention & Exhibition Bureau (MyCEB), an agency established by the Ministry of Tourism and Culture Malaysia to further strengthen and position Malaysia as a major events hub for the region and Sarawak Convention Bureau.
Delegate fee is RM360 inclusive of conference materials, lunch and 2 teabreaks. For the public who are interested in watching the night showcases, tickets can be bought online or at the entrance and cost of these shows are only RM30. More information on this inaugural event can be found at www.bwme2013.com.
Author:
World Music Central News Department
World music news from the editors at World Music Central