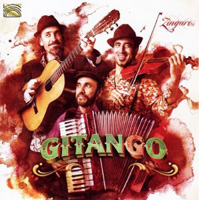 Zingaros
Gitango (ARC Music, 2013)
Pairing the rowdy good fun of gypsy music with the lush poignancy of Argentinian tango, Zingaros's second recording Gitango is available on the ARC Music label. With their 2010 debut recording Cirkari-Bypsy Music from Eastern Europe under their collective belt, Zingaro is back to serve up the thirteen spicy tracks on Gitango that seamlessly melds the extravagantly rich musical traditions of Eastern European gypsies with the passionate twists and turns of the tango. Gitango soothes, riles and wraps up the listener with such wild abandon that many will succumb to a spirited turn on the dance floor.
Zingaros members guitarist, vocalist, balalaika and bouzouki player Alejandro Montero; violinist, percussionist and vocalist David Macchione and accordionist Alexander Garate capture the listener by way of their musical emotionalism and their tight, neat sound that owes as much to passion as it does to precision.
Rollicking good tracks like "Orientes," "Seven Sisters" and live version of "Limonchiki" thrum with a thread of barely contained vivacity. Tracks like the sassy "Kako Si So Sam," the charming live version of "Peter" and their dazzling version of "Ojos Negros" are sure to fan favorites. Another gem is "Czarda de Monti" that exudes poignant longing and dizzyingly energy by turns. Other goodies include "Gitangueando" and the darkly worked "La Espera."
Sharply worked tracks and lush musical phrasing of guitar, violin and accordion speaks to the blend of gypsy with the tango, but what makes Gitango irresistible is the utter joy of these musicians that ekes through to the listener on each and every track. This musical kaleidoscope brims over with clever musicianship, potent emotionalism and flat out good fun.
Buy Gitango in North America
Buy Gitango in Europe
Author:
TJ Nelson
TJ Nelson is a regular CD reviewer and editor at World Music Central. She is also a fiction writer. Check out her latest book, Chasing Athena's Shadow.
Set in Pineboro, North Carolina, Chasing Athena's Shadow follows the adventures of Grace, an adult literacy teacher, as she seeks to solve a long forgotten family mystery. Her charmingly dysfunctional family is of little help in her quest. Along with her best friends, an attractive Mexican teacher and an amiable gay chef, Grace must find the one fading memory that holds the key to why Grace's great-grandmother, Athena, shot her husband on the courthouse steps in 1931.
Traversing the line between the Old South and New South, Grace will have to dig into the past to uncover Athena's true crime.