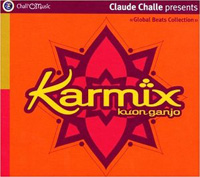 Claude Challe
Karmix: Kuon Ganjo (Worldwide Records)
The driving force behind the Buddha Bar brand has put together yet another superb compilation of urban lounge and fusion music. Like some of Claude Challe's other albums, this one too has some club tracks, though they come across as a bit jarring at times with excessive synth overlays and heavy beats. Still, the 12 tracks make for over an hour of fine Arabic and Indian fusion music.
The album has excellent liner notes too. Our picks include the superb tracks Neon, Sabhyata, Jhuti Muti, Barkani, Jina Jina, and A Llil.
Author:
Madanmohan Rao
Madanmohan Rao is an author and media consultant from Bangalore, and global correspondent for world music and jazz for World Music Central and Jazzuality. He has written over 15 books on media, management and culture, and is research director for YourStory Media. Madan was formerly World Music Editor at Rave magazine and RJ at WorldSpace, and can be followed on Twitter at @MadanRao.