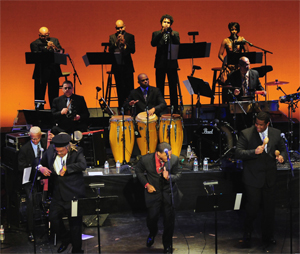 Juan De Marcos & The Afro-Cuban All Stars
Page Auditorium, Duke University
March 23, 2013
With recordings such as A Todo Cuba Le Gusta, Distinto, Diferente, Step Forward: Next Generation, and Live in Japan, as well as being the inspiration for the Buena Vista Social Club, Juan De Marcos & The Afro-Cuban All Stars remain the gold standard of Cuban music, so having the opportunity to attend the March 23rd show at Duke University's Reynolds Theater, courtesy of the good folks at Duke Performances Presents, was a thrilling treat.
Steeped in the lushness of Cuba's refined musical tradition entwined with the savagely cool jazz The Afro-Cuban All Stars are known for made for a stunning combination. Decked out in suits and dresses, Juan De Marcos and The Afro-Cuban All Stars took to the stage to enchant, enthrall and entice. Hopelessly captivated, there was nothing for audience to do but to fall captive to their spell.
With Mr. De Marcos clearly in the lead, the All Stars proved to be charismatic and consummate performers. Filling out the stage with Mr. De Marcos included percussionist Gliceria Abreu, keyboardist and vocalist Gliceria Gonzalez Abreu, pianist Gabriel Hernandez, bassist Alberto Pantaleon, conga player Rolando "Nino Mentira" Salgado, timbales player Tony Moreau, timbales player Antonio "Pacha' Portuondo, clarinetist Laura Lydia Gonzalez Abreu, trumpeter and flugelhorn player Julito Padron, trumpeter and flugelhorn player Yoanny Pino, trumpeter and flugelhorn player Lazarito Oviedo, vocalists Evelio Galan, Emilio Suarez and Gilito Pinera.
Giving the audience a good mix of both Cuban and Afro-Cuban Jazz pieces, the All Stars proved to be infectiously entertaining, often encouraging the audience to clap along or for singers to slip off the stage to woo audiences' members with sensual song or capture them in a brief dance. Pianist Gabriel Hernandez performed a solo jazz piece and several solos dazzled, as well as solos provided by a couple of the trumpet players.
This show was extraordinary in its long, leggy compositions and the easy nature of these musicians and singers. Giddy and delighted the crowd soon found itself on its feet to join in this glorious music.
Author:
TJ Nelson
TJ Nelson is a regular CD reviewer and editor at World Music Central. She is also a fiction writer. Check out her latest book, Chasing Athena's Shadow.
Set in Pineboro, North Carolina, Chasing Athena's Shadow follows the adventures of Grace, an adult literacy teacher, as she seeks to solve a long forgotten family mystery. Her charmingly dysfunctional family is of little help in her quest. Along with her best friends, an attractive Mexican teacher and an amiable gay chef, Grace must find the one fading memory that holds the key to why Grace's great-grandmother, Athena, shot her husband on the courthouse steps in 1931.
Traversing the line between the Old South and New South, Grace will have to dig into the past to uncover Athena's true crime.