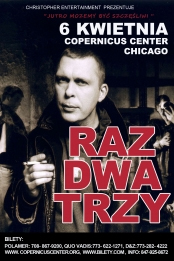 Raz Dwa Trzy, one of the most original Polish folk fusion bands will be touring North America in April 2013. They are booked for 11 shows from Chicago to East Coast and Canada to Florida.
The band which started in 1990 consists of 5 musicians playing guitar, percussion, clarinet, bass, accordion, piano and is led by the charismatic songwriter, guitarist, vocalist and poet Adam Nowak.
Over the course of 11 albums, Raz Dwa Trzy developed its distinctive sound mixing Polish urban folk with acoustic jazz and European songwriting musical sensibilities. Their engagingly arranged songs which are frequently very catchy are known for its smart, sharp, honest lyrics – sometimes whimsical and satirical, sometimes very lyrical, but always intriguing.
The band has won the Polish Music Industry Awards – "Fryderyk" several times and continues to be followed by its dedicated fans from album to album.
Raz Dwa Trzy is: Adam Nowak, vocals and guitars; Grzegorz Szwalek, clarinet, accordion, and electric piano; Jarek Trelinski, guitars; Mirek Kowalik, bass; and
Jacek Olejarz, drums.
US/Canada tour schedule:
4/5/2013 at 8 PM – TROY, MI, American-Polish Cultural Center
2975 E. Maple Rd.
4/6/2013 at 8 PM- CHICAGO, IL, Copernicus Center
5216 W.Lawrence Ave.
4/7/2013 at 6 PM- MISSISSAUGA, ON, John Paul II Center
4300 Cawthra Rd
4/11/2013 at 8PM – BOSTON , MA, Parish of Black Madonna of Czestochowa
655 Dorchester Ave.
4/12/2013 at 8PM – MIDDLETOWN ,CT, Middletown HS Performing Arts Center
200 LaRosa LN
4/13/2013 8PM- MONTCLAIR, NJ, Memorial Auditorium (Montclair State University – College of Arts)
1 Normal Ave; Upper Montclair NJ 07043
4/14/2013 at 4PM – GREENPOINT , NY, St Stanislaw Kostka Auditorium
10 Newel St.
4/19/2013 at 8PM- FT. LAUDERDALE, FL, Polish Club "Polonez"
935 Rock Island
4/21/2013 at 4PM – CLEARWATER, FL , John Paul II Polish Center
1521 N. Saturn Ave.
Author:
World Music Central News Department
World music news from the editors at World Music Central