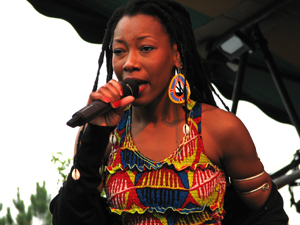 WobeonFest is the name of a new two-day world music festival that will present its first edition in Austin (Texas) in April 2013.
WobeonFest will feature headliners Angelique Kidjo (Benin) and Collie Budz (Bermuda), with rising Malian star Fatoumata Diawara (Mail), Bomba Estereo (Colombia), Dubtonic Kru (Jamaica) and Atash (Austin) also performing. A fuller lineup will be announced in coming weeks.
"We're incredibly excited," says WobeonFest founder Jakes Srinivasan. "Malian music has influenced so much of the world's modern music – including blues and jazz. Fatoumata Diawara is such a powerful voice for women, for musicians, for human rights,… and she's just riveting to watch live."
Bomba Estéreo is a Colombian band who gained favor with Austinites during their electric South By Southwest (SXSW) showcases in 2009 and 2010, and Austin City Limits (ACL) in 2011. Organized by Simon Mejía and fronted by Liliana Saumet, their music is a joyful, frenetic mash-up of electronic dub and hip-hop, and is known for drawing tremendous crowds.
Also joining the WobeonFest roster are La Santa Cecilia, a vibrant, modern-day hybrid of Latin culture, Rock and World music (from Los Angeles, who recently also performed at globalFEST); Mohammed Alidu, an acclaimed musician from Ghana who leads his band through heart-pumping grooves with his spiritual voice and talking drum; and Colombian singing sensation Duina del Mar who is teaming up with Austin-based Brazilian-rock-fusion band Suns Of Orpheus.
WobeonFest, which is co-hosted by the United Way for Greater Austin, will be held in Downtown Austin at the Emma S. Barrientos Mexican American Cultural Center.
Tickets and the full artist lineup can be found at www.WobeonFest.com.
Author:
World Music Central News Department
World music news from the editors at World Music Central