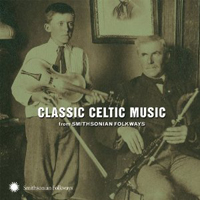 Smithsonian Folkways has announced the release of "Classic Celtic Music from Smithsonian Folkways" . The album, compiled by music historian and folklorist Richard Carlin, is the 20th volume in the popular "Classic Series." The album is strategically scheduled for release just in time for St. Patrick's Day.
Carlin's 23 choices span a wide spectrum of sounds from some of the Celtic regions, contrasting better-known early recordings with some of the best contemporary interpreters. Styles ranging from Sligo fiddle tunes to Northumbrian piping to sean-nós singing are represented in this presentation to the Celtic music riches of the Smithsonian Folkways archives.
Some of the selections, like Margaret Dirrane's "'Twas Early, Early in the Spring" and Joe Heaney's "The Rocks of Bawn," date to the mid-1950's, while others were recorded in the latter part of the 20th century. The track list includes a substantial sample of field recordings as well as a previously unissued tune, "Derry Hornpipe, recorded at the 1983 Smithsonian Folklife Festival in Washington, DC.
'Classic Celtic Music' track list:
1. Love at the Endings / John McGrath's Reel Kevin Burke 2:21
2. As I Roved Out Sarah Makem 0:54
3. Border Spirit Billy Pigg 1:20
4. 'Twas Early, Early in the Spring Margaret Dirrane 1:51
5. De'il Among the Tailors Bob Hobkirk 1:43
6. The Rocks of Bawn Joe Heaney 3:20
7. Whiskey Island Polka Pat O'Malley and Frank Keating 1:32
8. D-tigeas Ó Deabhasa (Children's Game Song) Sorcha Ní Ghuairim 1:03
9. Trip O'er the Mountain Willie Clancy 2:39
10. The Strayaway Child / The Lark in the Morning Michael Gorman and Margaret Barry 2:54
11. The Queen of May Shirley Collins 1:48
12. The Bonny Bunch of Roses Patrick Clancy 4:44
13. The Galway Rambler Tom Byrne 1:16
14. The Mountain Road Denis Murphy 1:03
15. Bushes and Briars Isla Cameron 2:14
16. Tifty's Annie Lucy Stewart 4:34
17. The Pearl Wedding / Nancy Taylor's Reel Willie Taylor 2:38
18. Derry Hornpipe Joe Shannon and John McGreevy 4:23
19. With My Pit Boots On Louis Killen 1:46
20. The Young Sailor Cut Down in His Prime Harry Cox 1:54
21. Bonnie Kate /Jenny's Chickens Jean Carignan 3:05
22. Glenlogie Ewan MacColl 5:12
23. Martin Wynne's Nos. 1, 2, 3, and 4 Brian Conway, Pat Mangan, Felix Dolan 4:43
Buy Classic Celtic Music from Smithsonian Folkways
Author:
World Music Central News Department
World music news from the editors at World Music Central