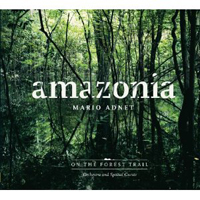 Mario Adnet
Amazonia On the Forest Trail (Adventure Music, 2013)
Music fans might know the name Mario Adnet from such recordings as From the Heart, Jobim Jazz, AfroSambaJazz: The Music of Baden Powell and Vinicius & Os Maestros. Now, Mr. Adnet's latest Amazonia On the Forest Trail is set for release on the Adventure Music label on February 19th. Intended as an ode to the culture and life of the rivers and forests in and around the Amazon, Amazonia pools together composers like Heitor Villa-Lobos, Tom Jobim, Dori Caymmi, Clausio Santoro, Waldemar Enrique, Joao Donato and Mr. Adnet himself to spirit the listener away on a journey inspired and dedicated to the musical life of the people of the Amazon and Brazil.
Steeped in a rich and sumptuous sound, Amazonia is thick and rich with strings, brass, piano, guitars and breezy percussion. Sleek and sophisticated, Amazonia packs a punch with guest vocalists like Antonia Adnet, Lenine, Monica Salmaso, Roberta Sa and Vicente Nucci.
The extravagant lushness against silky vocals glories in a sound that simply stunning. Listeners are treated to such treats as "Trilhas da Floresta" (Forest Trails) where brass instruments punctuate the air like birds and strings lull like a light breeze, "Os Rios" (The Rivers) where Mr. Nucci's vocals soothe against the lazy flow of imagined waters and "Boto" (Porpoise) with vocals by Lenine that positively shimmer.
Other gems include "Rio Amazonas," the deeply affecting "Canoa Canoa" (Canoe Canoe) and the lavishly wonderful "Uirapuru" (Musical Wren) with Monica Salmaso's fabulous vocals floating over all.
Mr. Adnet conjures a musical forest that is magical and engaging. Tapping into that wonderful world that is and is of Brazil and the Amazon region, Amazonia On the Forest Trail is delightfully satisfying.
Buy Amazonia On the Forest Trail
Author:
TJ Nelson
TJ Nelson is a regular CD reviewer and editor at World Music Central. She is also a fiction writer. Check out her latest book, Chasing Athena's Shadow.
Set in Pineboro, North Carolina, Chasing Athena's Shadow follows the adventures of Grace, an adult literacy teacher, as she seeks to solve a long forgotten family mystery. Her charmingly dysfunctional family is of little help in her quest. Along with her best friends, an attractive Mexican teacher and an amiable gay chef, Grace must find the one fading memory that holds the key to why Grace's great-grandmother, Athena, shot her husband on the courthouse steps in 1931.
Traversing the line between the Old South and New South, Grace will have to dig into the past to uncover Athena's true crime.