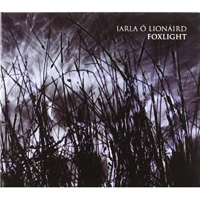 Iarla O Lionaird
Foxlight (Real World Records, 2013)
Set for release on February 12th on the Real World Records label, Foxlight is the third solo recording for Ireland's own Iarla O Lionaird. Known by most as the lead vocalist for Afro Celt Sound System, Mr. Lionaird has had a thriving solo career with his debut solo album on Real World Records, Seven Steps to Mercy and his collaborative work with Martin Hayes and Sinead O'Connor for the soundtrack to the 2000 film I Could Read the Sky by Nichola Bruce. Foxlight is indeed another notch in the belt for this super stunning vocalist.
Born into the community of Cuil Aodha in west Cork, Mr. Lionaird was steeped in music and comes by his musical prowess naturally, as he reflects, "I grew up in a hive of song. There were singers everywhere. The singing was marked in a certain way by the house you grew up in. You could close your eyes and know a person's family by the way of singing. There was an intactness to the societal function of song. When they died you sang for them, when they were born you sang for them and when they married you sang for them. Singing marked the passages of life. You could have been in Africa. There was the saying, 'We sang laments, and we made those we sang about great in the singing.' This in itself took away my fear of death. It was normal to sing of great men who had passed away. It was normal to think of the greatness of people. Even in death there was something exalted."
Along with musician and producer Leo Abrahams, Mr. Lioniard takes listeners on a journey that I can only describe as patient grace, where vocals seem suspended in thin air and accompanying instrumentation follows along lazily creating a comfort space. Opening with the darkly dreamy "Heart of the World," Mr. Lionaird sets up an intimate sound that seems completely without pretense and proves more so with "Daybreak," with the addition of guest vocalist Sara Marielle Gaup. Foxlight offers up some traditional tunes like "Fainne Geal An Lae" and" Eleanor Plunkett" that are sure to charm Celtic fans but without the false sweetness.
Mr. Lionaird explains his approach this way, "People ascribe a lot of things to me musically – Cuil Aodha, sean-nos, traditional…all of those sacred cows. They're certainly there, but I've always been a journeyman. With this record, I wanted to do things I hadn't done before and that's also because my way of listening has changed."
Title track "Foxlight" is truly delightful. Other gems on Foxlight include the quaintly worked "The Goat Song," the soaring "For the Heavens" and achingly poignant "Stay." Surrounded by a delicately wrought sound fashioned out of acoustic guitars, electric guitars, electronic programming, strings, percussion and piano, Mr. Lionaird's vocals take on a potency that will have fans wondering at Mr. Lionaird's next offering.
Mr. Lionaird sums up, "I've learnt to sing a certain way because of the way I listen to music. I really feel that before I even said I decided to be singer, my body, my mind and my psyche had been co-molded with songs, to such an extent that I wouldn't be able to sing the way I do were it not for the fact that my body wants to, and I get intense joy out of doing it. It's a complete sort of feeling."
And, we music fans wouldn't have it any other way.
Buy Foxlight
Author:
TJ Nelson
TJ Nelson is a regular CD reviewer and editor at World Music Central. She is also a fiction writer. Check out her latest book, Chasing Athena's Shadow.
Set in Pineboro, North Carolina, Chasing Athena's Shadow follows the adventures of Grace, an adult literacy teacher, as she seeks to solve a long forgotten family mystery. Her charmingly dysfunctional family is of little help in her quest. Along with her best friends, an attractive Mexican teacher and an amiable gay chef, Grace must find the one fading memory that holds the key to why Grace's great-grandmother, Athena, shot her husband on the courthouse steps in 1931.
Traversing the line between the Old South and New South, Grace will have to dig into the past to uncover Athena's true crime.