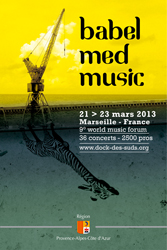 Babel Med Music will make Marseilles (France) the focus of the international world music community in March. For the 9th consecutive year, the Mediterranean city will host this international world music event, March 21-23.
Founded in 2005, Babel Med takes place in the 'Docks des Suds' venue, where professionals and the general public are exposed to international acts. It is an intense and crowded unique event that brings together music professionals who wish to do business as well as the general public who go to listen to music.
During three days and three nights, across 4 stages, Babel Med Music will present 36 concerts, 190 artists, 19 round-table discussions and 170 trade fair stands.
Artists Scheduled:
Ablaye Cissoko & Volker Goetze (Senegal – Germany): The ethereal summit of Afro-European Jazz
Baloji (Congo – Belgium): The Flow Afro boss, modern sorcerer of the Congo River
Black Bazar (Congo): Congolese rumba's return to its origins
Chicha Libre (United States – Peru): The psychedelic cumbia creates a tropical phenomenon
Coetus (Spain): An eloquent dialogue between traditional Spanish percussions
Cie Rassegna (Provence-Alpes-Côte d'Azur Region, France): Popular Mediterranean songs sublimely revisited
D'aqui Dub (Région PACA, France): The hypnotic sounds of electro-folk along the Mediterranean seashore
De Temps Antan (Canada): The traditional power-trio, the kings of Quebecois folk
Du Bartas (France): A cauldron of traditional music from the Languedoc region
Dubioza Kolektiv (Bosnia): Scenic bomb and Balkan fusion
Elina Duni Quartet (Albania –Switzerland): The jazzy vocalizations of an Albanian poet who seduces and thrills
Gren Seme (Reunion Island) – Prix Alain Peters 2012: The new adventurers of the evolutionary Maloya
Hoba Hoba Spirit (Morocco): Moroccan Rage, Rock from Casa !
Joaquin Diaz (Dominican Republic – Canada): The Merengue ambassador in exile
Kan'nida (Guadeloupe): The Gwoka sap, the spirit of Guadeloupe
Mariem Hassan (Western Sahara –Spain): The enchanting voice from the desert, the splendor of the Sahara
Mashrou' Leila (Lebanon): The brilliant pioneers of oriental indie rock
Mazalda – Turbo Clap (France): World Music in trance, psychedelic-style
Mohammad Motamedi (Iran): Persian music's vocal prodigy
Mounira Mitchala (Chad) – Scène Sacem: The precious jewel of desert folk-blues
Rosapaeda (Italy): A voice full of grace from Southern Italy
S.Mos (France): The improbable encounter between jazz legends and stars from the rap music scene
Sia Tolno (Guinea) – Scène Sacem : The Guinean diamond from the Volcanoes of Africa
Söndörgö (Hungary): A sensual embrace between Southern Slavic music and the lost heritage of the Balkans
Spiky The Machinist (Région PACA, France) : The digital rebranding of the Highstep Planet
Taksim Trio (Turkey): Brilliant musical stroll along the shores of the Bosphorus
The Alaev Family (Israel – Tajikistan): The oriental exaltation of a family's musical saga
Tiloun (Reunion Island): At the heart of the Maloya volcano is a thrilling whirlpool of music…
Victor O (Martinique): The quietly controlled musician whose fireworks set light to La Revolucion Karibeana's
Vinicio Capossela (Italy): The whimsical poet captain on his fantastic Mediterranean Odyssey
Wanlov & The Afro-Gypsy Band (Ghana –Romania): Exploring new sounds within African-Gypsy music
More information at: babelmedmusic.com
Author:
World Music Central News Department
World music news from the editors at World Music Central