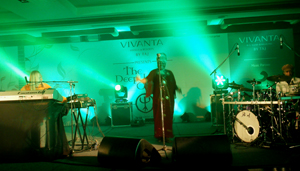 Grammy Award winning band from France, Deep Forest performed recently for their first time in India at the 'Deep India' concert, held at the Taj Vivanta hotel in Bangalore.
Their two-hour set featured Eric Mouquet on synthesizers, Senegalese bassist Alun Wade, French drummer David Fall, and Olyza Zamati on vocals.
They played a wide range of samples from their earlier recordings, including classics such as Revolte, Night Bird, Endangered Species, Tiko, Cafe Europa, Anasthasia, Yelele, Atali Wowo, Andromeda and Sweet Lullaby. Many tracks were pre-mixed and played from Eric's laptops.
The tracks covered a broad span of moods, from slow groove to galactic stomp. Olyza's soaring vocals drew wide applause, as well as the rapid trade-offs between synth and bass. The audience clapped in approval when Mouquet paid tribute to the late great Pandit Ravi Shankar, India's sitar maestro who passed away just days before the Deep Forest performance in Bangalore.
In an interview after his performance, Mouquet said he considered keyboard legend Joe Zawinul as a mentor and influence. David Fall said he really looked up to Paco Seri, drummer of the same band, Weather Report.
Mouquet also joked that one lesson he learnt the hard way after many gigs was to keep his music on two laptops on stage, in case one crashed. Sure, enough, one laptop froze up during his Bangalore gig, but he switched so smoothly to the other laptop that the audience did not even notice!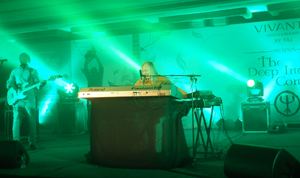 Deep Forest, founded by Michel Sanchez and Eric Mouquet, was nominated for a Grammy Award for the first time in 1994 and won the award for the album 'Boheme' in 1995, the first French band to do so. The band is known for their unique style of ethnic electronica.
Eric Mouquet's collaboration with India's santoor maestro Rahul Sharma will be featured in some tracks of their upcoming album 'Deep India'. The group played a track titled Madikeri from this album at the Bangalore performance.
Madikeri (or Mercara) is the capital of rainforest district Coorg in southern Karnataka. Rahul Sharma traveled to Madikeri and composed pieces along with recorded sounds of the forest. Rahul, the son of world-renowned santoor player Pandit Shivkumar Sharma, has expressed confidence that this unique fusion between Indian ethnic music with electronica will receive excellent response from music enthusiasts the world over.
The Deep India album released by Sony India will consist of 8 brand new tracks that capture the rhythms of folk melodies from across India: Jammu & Kashmir, Punjab, Rajasthan, Gujarat, and other parts of south and northeast India.
"I have always been enthused by India's multi-cultural heritage, including its legacy of traditional folk music. In a bid to create a brand a new stimulating music genre I have combined India's ethnic tunes with my electronica," said Mouquet.
"We always wanted to create an album that fuses Indian folk music with electronica," said Shridhar Subramaniam, President, India and Middle East Sony Music Entertainment.
Deep India is a venture under Deep Forest's projects, where Eric Mouquet experiments with different kinds of music from all over the world. Deep Forest released Deep Brasil in 2008, and the album 'Deep Africa' marks the return to Mouquet's first musical influences, African spiritual and rhythmic roots.
Moquet's collaboration over two decades and six albums includes the likes of Youssou D' Nour, Lokua Kanza, Wasis Diop, Flavio Dell Isola, Catherine Lara and Josh Groban. His hit track Sweet Lullaby featured voices of singers from the Solomon Islands. Later albums featured sounds of Eastern Europe and Japan.
Author:
Madanmohan Rao
Madanmohan Rao is an author and media consultant from Bangalore, and global correspondent for world music and jazz for World Music Central and Jazzuality. He has written over 15 books on media, management and culture, and is research director for YourStory Media. Madan was formerly World Music Editor at Rave magazine and RJ at WorldSpace, and can be followed on Twitter at @MadanRao.