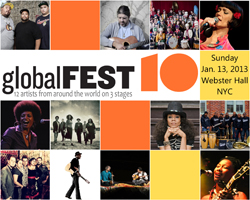 globalFEST, the most influential annual world music showcase held in the United States, will celebrate its 10th anniversary next month. The 2013 edition will take place on January 13th, 2013 at New York City's Webster Hall (125 East 11th Street). The showcase is strategically scheduled to coincide with APAP, the largest arts presenters' conference in the United States.
The lineup in 2013 includes:
A Tribe Called Red: This crew of DJs and audio-visual artists, joined by live pow wow singers, reimagines pow wow music for Canada's increasingly urbanized aboriginal youth, reclaiming clichés and transforming them into hot club beats and striking images.
Christine Salem (New York City debut): One of the few female voices of Maloya, a traditional music of the island of Réunion, the rebellious Christine Salem is an extraordinary artist with a unique path. Accompanied by a kayanm, a percussion instrument made from sugar cane flower stems and seeds predominant in Maloya music, she sings in Creole, Malagasy, Comorian, or Swahili, blending music from the Indian Ocean and African rhythms.
Fatoumata Diawara: With an intense but gentle stage presence and catchy, lilting songs, Diawara is the latest strong female Wassulu voice to emerge from Mali's diverse, lively music scene.
Kayhan Kalhor and Erdal Erzincan: Two masters in their own right join forces for virtuosic, riveting improvisations based on the shared melodies of Persian and Turkish classical forms. Kalhor's evocative kamanche (spike fiddle) sails over the delicate yet vigorous textures of Erzincan's baglama (long-necked lute).
La Santa Cecilia: Big, bold, and danceable, this Latin Grammy-nominated Los Angeles-based band harnesses gutsy vocals and roaring accordion to explore pan-Latin and alt-pop good times.
La Shica: Flamenco and funk-tinged rock are the perfect pairing in this Madrid quartet's hands. Serpentine, sultry flamenco vocals and dance meld with electric guitar flourishes for hard-hitting nuevo flamenco.
Lo'Jo: Polyglot pioneers of border-defying music from elsewhere and everywhere, the French band synthesizes powerful grooves, Gallic soul, and influences that range from the Saharan nomad blues of the Tuareg to Balkan beats.
Martha Redbone Roots Project: With a soulful voice and intrepid spirit, Redbone focuses on her Native American and Appalachian roots, drawing on the stirring poems of William Blake and high lonesome sounds to shed new light on old ways.
Mucca Pazza: A marching band that thinks it's a rock 'n roll band, a couple dozen mischievous performers – including high-jumping cheerleaders, anarchic horns, and helmet-amped guitarists – tear through originals inspired by the world's marching band traditions and perfected in Chicago's underground.
Oliver Mtukudzi and the Black Spirits: Oliver, known affectionately as 'Tuku,' the venerable Afropop pioneer from Zimbabwe has remained a vital, ever-changing part of the African music scene, adored for his beautiful guitar work, rich and husky voice, and positive, uplifting message.
Stephane Wrembel and His Band: 2012 Grammy-nominee Wrembel's wry, skillful interpretation of the jazz manouche guitar sound, first made famous by Django Reinhardt, has caught the ears of Woody Allen (who used Wrembel's work in Vicky Cristina Barcelona and Midnight in Paris). His five-piece band summons up the glorious, swinging, bittersweet spirit of Gypsy jazz.
Stooges Brass Band: Winners of the coveted "Best Contemporary Brass Band" at the Big Easy Music Awards, The Stooges have gained notoriety as a full-blown party band whether leading a second-line parade in the back streets of the Crescent City, collaborating with hip-hop, Cuban, Balkan, or South Asian bands, or performing at festivals across the country, including a guest appearance at globalFEST's tent at Bonnaroo. The Stooges immerse crowds in a high-energy, cut loose vibe that draws from contemporary yet deeply rooted in the rich musical legacy of New Orleans. Stooges replaces Parno Graszt, who will be unable to appear.
Founded by some of the United States' best known global music presenters, globalFEST is co-led by a trio of dedicated volunteer producers: Bill Bragin of Acidophilus: Live & Active Cultures, Isabel Soffer of Live Sounds, and Shanta Thake of Joe's Pub at The Public.
Tickets for globalFEST are currently on sale through Ticketmaster.com. Full festival information at www.globalfest.org.
Author:
World Music Central News Department
World music news from the editors at World Music Central