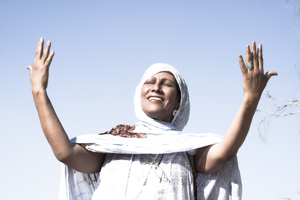 Sandblast's music empowerment project has been gaining strength in the past six months. The Staples Trust recently gave a £10,000 grant for activities in the Saharawi camps to strengthen the involvement of Saharawi musicians, promote inter-generational dialog and exchange of information about the music industry.
Just before Sandblast representatives set out to the camps on November 23rd, they secured support from UK-based audio company Naim Audio, and its label, to sponsor a music talent competition as part of Sandblast's Studio-Live launch in the camps. They will also contribute sound equipment for the future mobile music resource library.
"During our recent two-week trip to the camps, the Studio-Live team delivered the second training workshop for live sound technicians led by Andy Coules," says Sandblast's latest release. "In this period we also tested out our new mobile recording studio with sound engineer Sara McGuinness and interviewed prospective students to train early next spring. We also helped Robin Denselow produce a commissioned BBC Radio 4 show on Studio-Live (due to be broadcast in early 2013). Besides, with every cup of tea we drank (which were many!) we continued busily preparing for Studio-Live launch on Feb 28. To help us with all this was our new Saharawi field coordinator for Studio-Live Hamdi Mayub."
Sandblast is a UK human rights charity promoting the voices and visions of the indigenous Saharawi from Western Sahara through the arts.
For more information go to:
Author:
World Music Central News Department
World music news from the editors at World Music Central