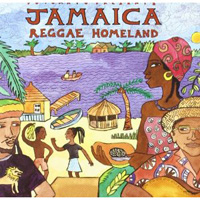 Various Artists
Jamaica: Reggae Homeland (Putumayo World Music)
Reggae compilations are all the rage these days, and this Putumayo collection brings the works of reggae greats to life with these 11 tracks. Infectious, joyous, uplifting – that is reggae at its best.
Culture's 'Why am I a Rastaman,' Black Uhuru's 'Sponji Reggae' and Jimmy Cliff's 'Give the people what they want' all bring back memories from the golden years of roots reggae.
A hefty 20 page booklet includes photos and information on each artist. Putumayo has done it again! They also have other excellent compilations of international reggae, such as 'Reggae Around The World,' 'Latin Reggae' and 'African Reggae.'
Author:
Madanmohan Rao
Madanmohan Rao is an author and media consultant from Bangalore, and global correspondent for world music and jazz for World Music Central and Jazzuality. He has written over 15 books on media, management and culture, and is research director for YourStory Media. Madan was formerly World Music Editor at Rave magazine and RJ at WorldSpace, and can be followed on Twitter at @MadanRao.