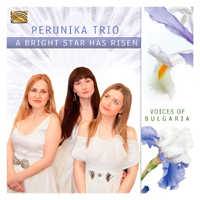 Perunika Trio
A Bright Star Has Risen (Arc Music EUCD 2409, 2012)
These three Bulgarian women show a clear commitment to sharing the distinctive range of their homeland's musical roots in the 14 songs on this release. They beautifully demonstrate the power of the human voice as a musical instrument. One finds this done often and well in music from the Eastern Orthodox part of Europe, as that church's tradition allows only the human voice to be used as an instrument for praising God. This is not to say that Perunika limits itself to somber spiritual chant. Far from it. Were that their bent, they would hardly have named their act after an ancient Slavic rain goddess.
Bulgaria, as portrayed in song by the Perunika Trio, is a land of passion and extremes, whether the extreme religious faith one would expect to find in a place where cultures collide like the Balkans, deep romantic feelings or pangs of loss. Though a bit restricted by its being a cappella, the record is a convincing kaleidoscope of the seasons, the secular and the sacred, the urban and rural and the past and the present in this colorful crossroads of Europe.
It is not a record for everyday listening, but for Sundays with the Times, days when the seasons definitively change, for planting flowers and for late night contemplation of the Human Condition. For these occasions, for times when it is right, "A Bright Star Has Risen" is superlatively right.
Buy the album in North America: A Bright Star Has Risen
Buy it in Europe: A Bright Star Has Arisen
Author:
Arthur Shuey
Arthur has been reviewing music for publications since 1976 and began focusing almost exclusively on world music in 2012.
His musical background includes past presidencies of the Cape Fear Musicians Association and Blues Society of the Lower Cape Fear, founding membership in nine other blues societies, service on 17 music festival planning committees, two decades of teaching harmonica to individuals and groups, operating a small recording studio and performing solo and in combos for 30 years.
Arthur has written professionally since 1975, pieces ranging from short fiction to travel articles, humor to poetry, mainly for local and regional entertainment media. His blog," Shuey's World," is featured at www.accesswilmington.com.