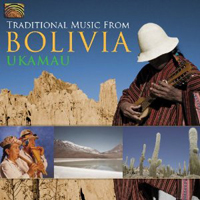 Ukamau
Traditional Music from Bolivia (ARC Music, 2008)
The music of Ukamau is rooted in the cultures of the Quechua and the older Aymara who lived within the boundaries of present day Bolivia. Assimilating the music of the Spanish conquistadors without relinquishing their ancient culture, they created a new and vibrant full of imaginative richness.
Liner notes are in Spanish and English, with lyrics included. The 15 tracks on this album certainly succeed in transporting the listener across time and space to the haunting world of pre-Colombian South America. Our picks include the tracks Peregrinando, Huayno and Ollantay, with fine vocal chorus, guitar and panpipes.
buy Traditional Music from Bolivia
Author:
Madanmohan Rao
Madanmohan Rao is an author and media consultant from Bangalore, and global correspondent for world music and jazz for World Music Central and Jazzuality. He has written over 15 books on media, management and culture, and is research director for YourStory Media. Madan was formerly World Music Editor at Rave magazine and RJ at WorldSpace, and can be followed on Twitter at @MadanRao.