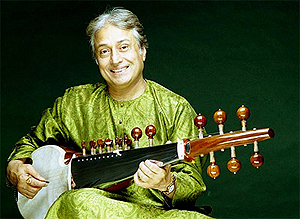 October 22, 2012 
 
Music fans in Bangalore had a rare concert treat this past Dussera festival weekend with an unbelievable lineup: sarod maestro Ustad Amjad Ali Khan and his two accomplished sons Amaan and Ayaan, accompanied by *two* acclaimed table players: Tanmoy Bose and Satyajit Talwalkar!
 
'Sarod Samrat' Amjad Ali Khan was born into a musical family and has performed internationally since the 1960s. He was awarded India's second highest civilian honour, the Padma Vibhushan, in 2001, as well as a fellowship in 2012 from India's Sangeet Natak Akademi.
 
The Dalai Lama has reportedly remarked about him: "When Amjad Ali Khan performs, he carries with him a deep human spirit, a warm feeling and a sense of caring." Khan believes music has no boundaries, and teaches around the world as well. Music transcends the two most dividing aspects of humanity — religion and language, and music is as much about feeling as theory, according to Khan, in previous press interviews about his classes in Stanford University.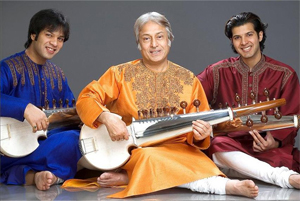 His sons Amaan and Ayaan are outstanding musicians in their own right, and perform classical music along with their father, as well as fusion and collaborations with other international artistes. The family has a Web site about sarod music.
 
See my earlier review of Amaan and Ayaan's fusion album "Reincarnation". I also had the good fortune to hear the brothers perform live at NCPA in Mumbai with oud expert Rahim AlHaj from Iraq earlier this year.
 
The two brothers opened the evening performance on a rainy day in Bangalore with a piece set in Raga Rageshri, in taals of 14 and then 16 beats. The introductory alap showcased beautiful melodies, and Amaan and Ayaan traded intricate lines before the tabla players joined in. Tanmoy Bose paired with Amaan and Satyajit Talwalkar with Ayaan, each participating in call-response which drew loud applause from the audience.
 
Ustad Amjad Ali Khan then took the stage with the two tabla players, a rare combination. He showcased the richness of Indian classical music with a range of pieces: the Ganesh Kalyan melody, Raga Zila Kafi, tarana, Raga Miya ki Malhar, a composition of Rabindranath Tagore, and an Assamese song. The classic Amjad Ali Khan pose – head turned to the right with eyes closed and a half-smile on his lips – brought a smile to many in the audience familiar with his performances, and his mastery of the sarod made the instrument come to life as few can.
 
His two sons then joined him on stage, touching his feet as they sat down flanking him, with the two tabla players facing each other on the sides – making for a unique lineup of Indian classical musicians. Amjad Ali Khan acknowledged the fine tabla players and their musical influences: Pandit Shankar Ghosh and Suresh Talwalkar.
 
As the sarod players were filing their nails, Khan joked that this was not out of vanity but because the sarod stringboards are played with the fingernails — and not with fingertips as in other string instruments!
 
The final piece was set in Raga Kirwani, with Khan taking the lead and performing duets with each of his sons, followed by tabla duets. The tabla players then squared off with each other, taking solos and then jamming with each other in ever-shorter segments till they both thundered together in a rousing crescendo.
 
The evening came to an end seemingly all too soon, but the five musicians drew a standing ovation (one fan even tweeted that the performance was 'sarodgasmic'!). What stood out that evening was not just the mastery of the musical geniuses but the energy, bliss and spirituality of the entire performance. We look forward to welcoming sarod's 'First Family' again to Bangalore, and to future concerts produced by Sumeru Events!
 
Author:
Madanmohan Rao
Madanmohan Rao is an author and media consultant from Bangalore, and global correspondent for world music and jazz for World Music Central and Jazzuality. He has written over 15 books on media, management and culture, and is research director for YourStory Media. Madan was formerly World Music Editor at Rave magazine and RJ at WorldSpace, and can be followed on Twitter at @MadanRao.