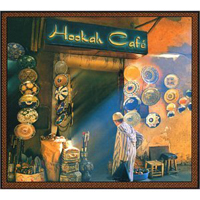 Various Artists
Hookah Cafe (Free Spirit)
This superb compilation delivers what the liner notes promise: a musical trip through the smoky cafes of Morocco, Turkey and Egypt (it depends on what you are smoking, of course!). The 12 tracks make for excellent ambient moods on a mellow afternoon.
Our picks include Spiral Dance by Tulku and the superb Emeral Mineral in a Sea of Stars by Phil Thornton and Arab percussion wiz Hossam Ramzy. There are other more up-beat and dance-floor compilations of Middle Eastern music, but this is a good starter.
Buy Hookah Cafe
Author:
Madanmohan Rao
Madanmohan Rao is an author and media consultant from Bangalore, and global correspondent for world music and jazz for World Music Central and Jazzuality. He has written over 15 books on media, management and culture, and is research director for YourStory Media. Madan was formerly World Music Editor at Rave magazine and RJ at WorldSpace, and can be followed on Twitter at @MadanRao.