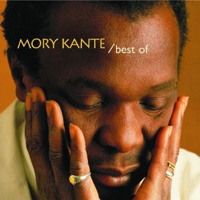 Mory Kante
Best of Mory Kante (Universal Music)
Mory Kanté from Guinea is an acclaimed vocalist and player of the kora, a West African string instrument. He was born into one of Guinea's best known Mandinka families of griot (hereditary) musicians, the Kanté family.
Kanté became a member of the Rail Band, in which Mali superstar Salif Keita was a singer. Mory Kanté is best known internationally for his 1987 hit song 'Yéké Yéké,' which was also one of Africa's best-ever selling hits. Two versions of this track are on this compilation, which also includes 'Nafiya' and 'Soumba.'
With 14 tracks of high-energy modern West African sound, this album definitely belongs in your compilation collection.
Author:
Madanmohan Rao
Madanmohan Rao is an author and media consultant from Bangalore, and global correspondent for world music and jazz for World Music Central and Jazzuality. He has written over 15 books on media, management and culture, and is research director for YourStory Media. Madan was formerly World Music Editor at Rave magazine and RJ at WorldSpace, and can be followed on Twitter at @MadanRao.