Bunny Marrett – I'm Free (Bristol Archive Records, 2012)
Dan Ratchet – Jah Poor People (Bristol Archive Records, 2012)
I know a thing or two about England's reggae scene, or so I thought. I certainly didn't know how large a role the city of Bristol has played over the years, and I hadn't previously heard of the artists I'm reviewing here. Thanks to Bristol Archive Records, ignorance is no longer an option.
Bunny Marrett's I'm Free is not a lengthy affair- just five songs and three dubs. There's nothing lacking musically, however, and Marrett's dry, plainspoken vocals are supported by airy rhythms that don't focus so much on reggae's bottom-heavy feel as on a spaciousness that gives the melodies their due. "Jazzy Reggae" (something of a riff on Bob Marley's "Kinky Reggae") is one of the song titles and probably the best way to describe the music itself, which has a swaying, bumping pulse laced with echoey sounds and mellow vibes. Originally recorded in 1986, I'm Free is reggae that oozes cool and is ripe for discovery.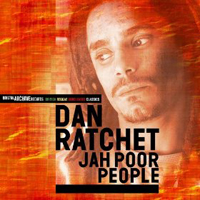 Also from 1986 is Jah Poor People by Dan Ratchet, who has a voice that's equal parts reggae and soul. The album is the sort of roots reggae that sounded modern for its time (lots of Simmons drums and such like) and still sounds darn good.
This one's a full- length album, eight songs and as many dubs, and Ratchet is as on target with love songs as he is with political or spiritual reasonings. One track (the concluding "If Jah Should Leave Me") was recorded in Jamaica, but the U.K. tunes are every bit as solid, showing how well reggae was able to cross the ocean to its adopted British home. Recommended for fans of Aswad in their prime or anyone who likes reggae that's sparklingly produced and still has bite.
Buy I'm Free and Jah Poor People in North America
Buy I'm Free and Jah Poor People in Europe
Author:
Tom Orr
Tom Orr is a California-based writer whose talent and mental stability are of an equally questionable nature. His hobbies include ignoring trends, striking dramatic poses in front of his ever-tolerant wife and watching helplessly as his kids surpass him in all desirable traits.