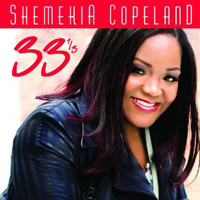 Shemekia Copeland
33 1/3 (Telarc International, 2012)
Smoother than a couple of belts of brand named booze, better than a midnight ride in a fast car and sexier than the curves on a good, or not so good, woman, the blues on Shemekia Copeland's latest offering of 33 1/3 will work you over until you are begging for more.
Set for release on September 25th on the Telarc International label, 33 1/3 is a follow up to the 2011 release of Deluxe Edition and previous recordings that include Never Going Back, The Soul Truth, Turn Up the Heat and Wicked.
Dubbed the "Queen of the Blues" at the Chicago Blues Festival in 2011, a White House performance and a touring schedule that has taken her around the globe, Ms. Copeland keeps cooking up the blues with such emotional force as to make the terms gutsy and gritty pale by comparison.
Ms. Copeland offers a glimpse into 33 1/3, "Every one of these songs tells a story about where I am in my life. They all connect to something that has happened to me, both good and bad. I've experienced a lot since I started making records and touring more than 15 years ago, and I think people want to tap into the wisdom that comes with that experience. I tried to bring a little bit of that to every one of these songs."
Opening with the tartly worked "Lemon Pie," with its socio-economic slam about the disparity between the rich and the poor, Ms. Copeland belts out vocals that come across as warm, rich and powerfully potent as the her backing band. Ms. Copeland works her way through Randy Weeks's "Can't Let Go," the sharply worded "Somebody Else's Jesus" and the twangy delicious "A Woman," as well as "I'll Sing the Blues," a kick ass version of Sam Cooke's "Ain't That Good News" and a funky number entitled "Mississippi Mud." My personal favorites include "Ain't Gonna Be Your Tattoo" with Buddy Guy working the guitar and a stupendous version of Bob Dylan's "I'll Be Your Baby Tonight" where Ms. Copeland's vocals sear with such soulfulness that I had a Nina Simone moment listening to it.
Ms. Copeland explains, "I've always wanted to be a blues singer. I never wanted to be anything else. There are so many people for whom the blues was not their genre of choice, by they landed here because they got rejected elsewhere. That was never the case for me. I want to see this music evolve and grow, and for that to happen, I have to evolve and grow as an artist. I have to be able to sing a folk song by Bob Dylan or a country song by Randy Weeks and reinterpret it in the context of the blues. It's at the heart of just about every other form of American music. It's a genre that tells stories. I want to tell as many of those stories as I can – at 33 1/3 and beyond."
One listen to 33 1/3 and you'll hope Ms. Copeland will surely return and sing us more stories.
Buy 33 1/3 in North America
Buy 33 1/3 in Europe
Author:
TJ Nelson
TJ Nelson is a regular CD reviewer and editor at World Music Central. She is also a fiction writer. Check out her latest book, Chasing Athena's Shadow.
Set in Pineboro, North Carolina, Chasing Athena's Shadow follows the adventures of Grace, an adult literacy teacher, as she seeks to solve a long forgotten family mystery. Her charmingly dysfunctional family is of little help in her quest. Along with her best friends, an attractive Mexican teacher and an amiable gay chef, Grace must find the one fading memory that holds the key to why Grace's great-grandmother, Athena, shot her husband on the courthouse steps in 1931.
Traversing the line between the Old South and New South, Grace will have to dig into the past to uncover Athena's true crime.