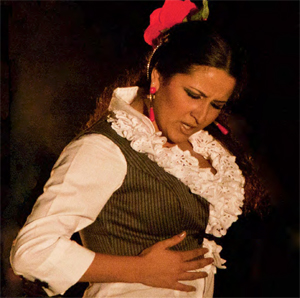 The annual Bay Area Flamenco Festival: Festival Flamenco Gitano USA returns to the San Francisco Bay area in September 2012 with some of the finest flamenco performers from Spain and film screenings.
Program
Thursday, September 27, 7pm; Palace of Fine Arts, San Francisco
¡Fiesta Jerez!
¡Fiesta Jerez! (Jerez Party) is a return to the roots, joy and soul of flamenco. This concert, intimate, immediate, impassioned, feels less like a stage production and more like an invitation to a Gypsy family celebration in Andalucia. This 12-member multi-generational ensemble features singer anddancer Juana la del Pipa, singer Enrique el Zambo, singer and dancer Kina Mendez, and dancer Gema Moneo, a rising star in flamenco.
Wednesday, September 26, 8pm; Yoshi's Oakland
Diego del Morao: 21st Century Gypsy Flamenco Guitar
One of the most sought-after guitarists on today's scene, Diego del Morao is known for his work with artists such as Diego el Cigala, José Mercé and Niña Pastori. Even Paco de Lucía made a cameo appearance on his recent solo release "Orate" (Cigala Music, 2010).
He is the son of the legendary guitarist "Moraíto," who along with his uncle Manuel Morao, developed the signature sound of traditional Jerez-style flamenco guitar. Diego del Morao takes that legacy into the 21st century.
Friday, September 28, 8pm; Palace of Fine Arts, San Francisco
Jose Mercé
West Coast debut of Spanish superstar, José Mercé, one of the world's greatest flamenco artists. Born into the Soto Sordera clan of Gypsy flamenco singers. His 1998 recording "Del Amanecer" (Virgin Records) garnered worldwide recognition with his contemporary arrangements aimed at a younger audience.
With multiple Latin Grammy nominations and more than 600,000 albums sold in the last 15 years, he has made an indelible mark on flamenco. His latest CD will be released on Bluenote in the fall of 2012.
Sunday, September 30, 7pm; Palace of Fine Arts, San Francisco
Farruco Family: La Farruca & El Carpeta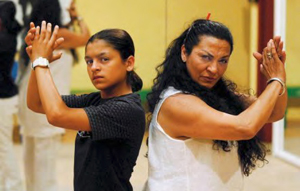 The U.S. debut of the 14-year-old prodigy El Carpeta, and return of matriarch La Farruca—both of the legendary Los Farruco dynasty, the first family of Gypsy flamenco dance. As La Farruca is acclaimed for her elegance, her son El Carpeta is becoming known as the most extraordinary flamenco dancer of his generation and torchbearer for the family legacy. The youngest brother of Farruquito, he's been teaching master classes since the age of six!
Flamenco on Film!
Embarcadero Cinema, San Francisco
6pm daily, Monday & Tuesday September 24 – 25
Carlos Saura's "Flamenco, Flamenco" (130 min. English subtitles, 2010)
14 years after the release of his 1996 film "Flamenco," Carlos Saura returns, bringing a new perspective to the lively and dynamic world of flamenco. According to film critic Kathleen Murphy, master cinematographer Vittorio Storaro's (The Last Emperor, The Sheltering Sky) "gift for painting with light is perfectly suited to capturing the fluid spaces which Saura fills and energizes with flamenco's fierce, colorful forms."
The film features performances by more than 21 flamenco artists such as Eva la Yerbabuena, Sara Baras, Niña Pastori, Rocío Molina, Israel Galván, El Carpeta and José Mercé.
8:30pm daily, Monday & Tuesday September 24 – 25
"Morao: Good Flamenco Singing Hurts" (55 min. English subtitles, 2011)
A journey into the art of flamenco as a way of life, through the figure of legendary guitarist 'Moraíto Chico' who passed away last year at the age of 55. Together with his uncle Manuel Morao and his son Diego del Morao, he forms the heart of the Morao Gypsy dynasty of Jerez de la Frontera, a hotbed of flamenco.
Moraíto created an unparalleled style, a reflection of his great personality and humor that ignited
everything and everyone around him.
Workshops & Master Classes
Guitar Master Class with Diego del Morao
Flamenco Dance Workshops with La Farruca & El Carpeta
More at www.BayAreaFlamenco.org
Author:
World Music Central News Department
World music news from the editors at World Music Central