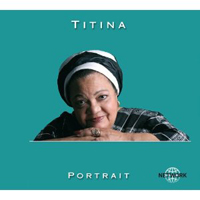 Titina
Portrait (Network Records, 2012)
I'm always a little surprised at the capricious nature of the music industry. It's sort of a lesson in futility in understanding why some truly wonderful music is passed over and relegated to the dusty bins in darkest corner of the big musical warehouse. Equally confounding is why the Cape Verdean music styles of morna and coladeira didn't make a bigger splash on the global musicscape like the Brazilian bossa nova or the Portuguese fado. Fortunately for you some clever person has fixed that with the release of Network Records's Portrait by the Cape Verdean Titina.
Considered a contemporary and fellow Cape Verdean musical ambassador of the legendary Cesaria Evora, Titina has had perhaps a less spectacular career than Ms. Evora, but fans are clearly devoted as she opened the 2011 Baia das Gatas music festival to a crowd of 50,000 and dubbed a "morna singer in the Diaspora." One listen and it's clear that Titina is a master of the Cape Verdean morna and coladeira.
Pooling tracks from her two recordings Titina Canta B.Leza and Cruel Destino, as well as offering fans a listen into some previously thought lost tracks recording in the 1960s and 1980s, Portrait inundates the listener with music delicious as a caress from the opening notes through to the fading ending strains.
One is rendered helpless with tracks like the achingly lovely "Terra Longe" and the deeply mysterious "Note De Mindelo." Upbeat, flirty tracks filled with sultry Cape Verdean percussion, catchy guitar and silky brass lines like "Marcha de Oriundo," "Catatau" and "A Mim Na meio De Mar" are the perfect backdrop to Titina's sinfully delicious vocals. While dated, tracks like "Stanhadinha" and "Cinturao Tem Mele" are as powerful as more recently recorded tracks like "Soldade De Bo."
If the songs of Portrait are anything to go by then a trip to the dark corners of the recording studio is called for. Titina's ripe, rich, emotionally heavy vocals are worth the trip.
Buy Portrait in North America
Buy Portrait in Europe
Author:
TJ Nelson
TJ Nelson is a regular CD reviewer and editor at World Music Central. She is also a fiction writer. Check out her latest book, Chasing Athena's Shadow.
Set in Pineboro, North Carolina, Chasing Athena's Shadow follows the adventures of Grace, an adult literacy teacher, as she seeks to solve a long forgotten family mystery. Her charmingly dysfunctional family is of little help in her quest. Along with her best friends, an attractive Mexican teacher and an amiable gay chef, Grace must find the one fading memory that holds the key to why Grace's great-grandmother, Athena, shot her husband on the courthouse steps in 1931.
Traversing the line between the Old South and New South, Grace will have to dig into the past to uncover Athena's true crime.