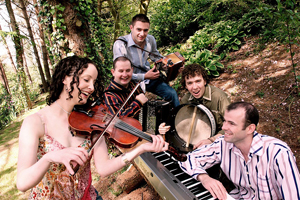 They deliver their fair share of jigs and reels, to be sure, but Beoga is markedly different from other top-flight Irish folk bands of the past 30 years.
Their distinctive and dynamic sound stems from an unusual configuration of instrumentalists that encompasses two lead button accordionists and a pianist in addition to the mandatory fiddle player and bodhrán drummer.
Emphasizing the band's individuality, interspersed between their self-composed, self-described and irresistibly funky "new wave trad" tunes is an eclectic and somewhat eccentric range of cover songs.
Based in Antrim, one of the six counties that constitute Ulster, Beoga is currently the most in-demand Irish folk band on the world festival circuit. A glance at their itinerary for the first half of 2012 amply corroborates that statement. Having started the year in France, they resumed gigging in Ireland in February. March was spent in Australia and Malaysia and in April they tour the UK.
Beoga's first tour down under, in 2010, was an unqualified success. They returned to play a handful of festivals, including the Port Fairy Folk Festival, brandishing a new album How to Tune a Fish that has been critically acclaimed on both sides of the Atlantic. The Wall Street Journal simply dubbed them: "The most exciting new traditional band to emerge from Ireland this century".
Acknowledging their unconventional instrumentation and sound, pianist Liam Bradley says: "When we formed we realized twin accordions was something different and could be fun to try out." He points that one of the "box" players, Seán Óg Graham, switches to guitar on some numbers.
Bradley also stresses that the jazz-laced rhythms that underpin their sound occur naturally and confirms the arrangements happen through experimentation. "We usually bat ideas around, arrange them and re-arrange things until we're happy that we have something that firstly sounds good and secondly sounds like nothing we've done before. We're quite conscious not to sound like we're copying anyone or repeating ourselves."
Although clearly based on the Irish tradition, Beoga's music has other musical ingredients in the mix. "We all have very different tastes, but it's fair to say that we have taken influence from lots of different areas and from many parts of the world. Seán Óg and [singer/fiddler] Niamh Dunne both studied in Norway for a period and [bodhrán player] Eamon Murray did ethnomusicology at university, so there have been a lot of different ideas in the pot from the early days. Sean is a fan of Bela Fleck and the Flecktones. My own playing has been influenced by the Cape Breton style. Eamon is a Steve Gadd fan and [button accordionist] Damian McKee's favorite band, believe it or not, is Men at Work. Niamh's singing has been influenced by many greats, like Sandy Denny and Judy Collins to name a couple."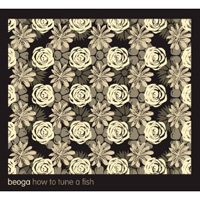 The band's versatility is reflected in two starkly contrasting songs delivered by Dunne on the new album, one an early 20th century vaudeville piece that she discovered, 'Come in out of the Rain'. The other is Rick Danko's skewered country song 'Home Cookin'. How To Tune A Fish was part-recorded in rooms in Seán Óg Graham's house. "For recording the lead vocals, it was hard to beat the sound in his kitchen — sadly for Eamon, his drumming sounded at its best when he sat on the toilet," Bradley informs.
One of 14 tunes composed by band members for the album, 'The Humours of Taupo', emerged during a boozy session on the band's maiden tour of Australia and New Zealand two years ago. "We had a few rainy days off at Lake Taupo, so we reluctantly spent a few fun-filled evenings in the public houses."
Beoga, which means "lively" in Gaelic, takes inspiration from some of the great Irish folk bands of the past three decades. "We all grew up with Planxty and the Bothy Band and over the years we have had the privilege of sharing the stage with Altan and Lunasa, and in 2005 we toured Germany with Solas."
The band has come a long way since its core members first got together at a "crazy session" at the 2002 All Ireland Fleadh and decided they could work together. "The reality has probably exceeded any expectations we would have imagined," concedes Liam Bradley. "We've done some memorable tours with Solas, Grada, The Fureys and Davey Arthur." They also performed with the BBC Orchestra to a television audience of millions as part of the Last Night of the Proms. "The orchestra really made us sound quite good!" Bradley concludes with dry Irish humor.
• The above interview first appeared in Rhythms, Australia's only dedicated roots music magazine, for which the author is World/Folk correspondent.
Author:
Tony Hillier
Tony Hillier is based in Cairns in far north Queensland, from where he has been actively involved in all areas of the music industry in Australia for the past 25 years, primarily as a journalist, writing for national publications such as the Weekend Australian and Rhythms magazine (for which he is World Music & Folk correspondent), and performing locally, nationally and internationally with the bands Kamerunga and Snake Gully. He has also presented and produced World Music and Folk music programs for ABC Far North, Port Douglas Radio and 4CCR-FM, netting a CBAA Best Specialist Music Program Award with the last-named for a documentary on flamenco. Before coming to Australia, he was a racing journalist of some repute in the UK, where he wrote a column for the London Evening Standard under the nom-de-plume of Ajax.