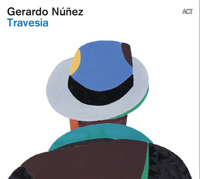 Gerardo Núñez
Travesia (ACT Music, 2012)
I thought I'd have to do something drastic in order to get a listen to flamenco guitarist Gerardo Núñez's latest Travesia (Crossing). Something unpleasant. Something like conjuring up some sort of lame pretense to sneak into our editor-in-chief's lair and surreptitiously snatch the review copy while he sat sad and soulless, clutching CDs to his chest muttering "my precious." Lucky for me, I didn't have to resort to such tactics, but it was a near thing. And, it was a good thing because Mr. Núñez's Travesia is simply stunning.
With recordings like Calima, Jucal and El Gallo Azul under his belt, Mr. Núñez offers listeners on Travesia the whole spectrum of flamenco's colors. Bending serpentine guitar lines back on themselves in a style that is tight, neat and seemingly effortless, Mr. Núñez creates a kaleidoscope of soundscapes that is at once archly elegant before turning slickly sassy and then his give you a heart stopping roundhouse punch of sheer guitar virtuosity just to keep you on your toes.
Opening with the sweetly lazy "Itaca," Mr. Núñez lures the listener in with the spare elegance of guitar before adding palmas (handclap percussion) and percussion. Turning the spare into something full-bodied and lush, "No Ha Podio Ser" is possessed by that familiar flamenco flare with percussion and palmas provided by Cepillo, palmas by Carmen Cortés and Isabel Núñez, electric guitar by Pablo Romero, electric bass by Pablo Martin, zapateado (foot percussion) by Alfonso Losa and keyboards by Mariano Diaz. The intricate, interlocking rhythms will make you cry. Following up with the dreamy "Compás Interior," fans get a glimpse into the quiet color of flamenco.
Mr. Núñez pulls out all the stops for "Chicken Dog." I know, "Chicken Dog" seemed like an unlikely addition to a flamenco recording, but this version of Paul Scofield's composition has gotten savagely cool written all over with dishy bass lines by Antonio "Maca" Ramos, saxophone by Perico Sambeat and a female backing singers to give a little kick in the pants.
Other goodies packing this CD include "Tio Pepe." "Tio Perico" and the lushly worked "A Rumbo" with pianist Albert Sanz adding yet another layer to the force of Travesia.
The closing and title track "Travesia"(referring the boat 'crossing' of undocumented African immigrants to Spain) is so good, raise the hairs on the back of your neck good, that it is impossible to be a passive listener. Bilal Demiryurek offers the call to prayer while Luky Oyegue and Christians Lorys offer vocals and Juan Luis Cano gives a recitation of the poem "Acta de Extranjeria"(Immigration Law) by Luis Ruis. Add in Mr. Núñez's flamenco guitar, bass, keyboards, palmas, piano and a bevy of backing singers and this track exudes power and artful fire.
Travesia is ferociously, deliciously, lusciously delightful and wholly satisfying.
Listen to samples and buy MP3s.
Buy the CD from Amazon Spain.
Author:
TJ Nelson
TJ Nelson is a regular CD reviewer and editor at World Music Central. She is also a fiction writer. Check out her latest book, Chasing Athena's Shadow.
Set in Pineboro, North Carolina, Chasing Athena's Shadow follows the adventures of Grace, an adult literacy teacher, as she seeks to solve a long forgotten family mystery. Her charmingly dysfunctional family is of little help in her quest. Along with her best friends, an attractive Mexican teacher and an amiable gay chef, Grace must find the one fading memory that holds the key to why Grace's great-grandmother, Athena, shot her husband on the courthouse steps in 1931.
Traversing the line between the Old South and New South, Grace will have to dig into the past to uncover Athena's true crime.