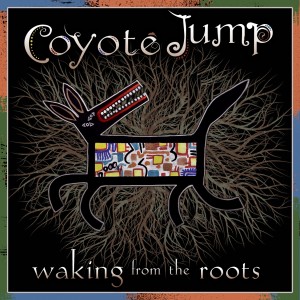 Colin Farish and John-Carlos Perea
Coyote Jump: Waking from the Roots (Canyon Records, 2012)
Native American music often comes with the rep for being rigidly spare, opting to stick to the minimalistic beauty of the traditional rather than embracing a fusion sound. Composer and musician Colin Farish and Native American flutist John-Carlos Perea have set out on a path to change that with their stunning collaboration Coyote Jump: Waking from the Roots.
Carefully crafted and harmoniously arranged, Coyote Jump is what I think of as a winding road CD where the listener is compelled to meander along the musical landscape with all its twists and turns. With Mr. Farish and Mr. Perea leading the journey, Coyote Jump is delightfully dreamy and invitingly peaceful where Native American tradition travels alongside full-bodied compositions.
Opening with the soaring "Lighting Drum," Mr. Farish and Mr. Perea make use of frame drum, piano, sweeping strings and Native American flute to set the easy tone of Coyote Jump. Loaded with Mr. Farish on guitar, Mr. Perea on Native American flute, Sudhananda Paul Greaver on guitar, Dror Sinai on frame drum and Robin Bonnel on cello "Oholone Waters" is a silky, smooth ride.
Equally good are tracks like "Salish Sound" with its guitar, flute and piano lines and dashes of bass, table and cello, the piano and flute composition "Prayer/Taking Flight" and the stunning "Invocation/Waking from the Roots" with its overlapping flutes by Mr. Perea, strings by Savannah Jo Lack and Robin Bonnnel and frame drum by Glen Velez.
My favorite tracks are title tracks "Coyote Jump" with its soaring sound with strings and flute before blossoming with guitar and keyboards by Mr. Farish and Will Clipman on Buffalo Moon udu, Sonoran catalpa pods, Cherokee turtle shell rattles and Nepalese tingsha, and the wonderful rich track "Midnight Moon" with the vocal group Chanticleer and the cello octet The Richard Worn Chamber Ensemble.
Coyote Jump: Waking from the Roots is a charmed musical journey and well worth a meander into the world of Native American inspired music.
Author:
TJ Nelson
TJ Nelson is a regular CD reviewer and editor at World Music Central. She is also a fiction writer. Check out her latest book, Chasing Athena's Shadow.
Set in Pineboro, North Carolina, Chasing Athena's Shadow follows the adventures of Grace, an adult literacy teacher, as she seeks to solve a long forgotten family mystery. Her charmingly dysfunctional family is of little help in her quest. Along with her best friends, an attractive Mexican teacher and an amiable gay chef, Grace must find the one fading memory that holds the key to why Grace's great-grandmother, Athena, shot her husband on the courthouse steps in 1931.
Traversing the line between the Old South and New South, Grace will have to dig into the past to uncover Athena's true crime.