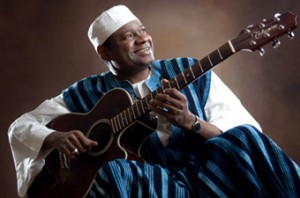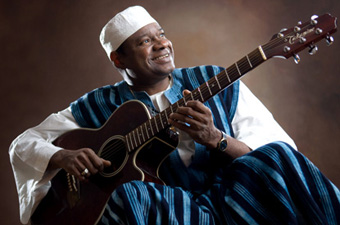 Guinea-born singer and electric guitarist Alpha Yaya Diallo, one of the greats of West African dance music, returns to the Ashkenaz stage for the first time in a decade, following a winter tour with African Guitar Summit.
His lilting style brings in an African melding of Cuban, Cape Verdean, Arabic, and North American blues and jazz. Diallo also plays bala and jembe, backed by the band he formed in 1992, Bafing. He sings in Sous Sous, Malinke, Fulah, French, and English, in his songs of love, social issues, and uplifting the human spirit.
Born outside the griot caste in Conakry, Guinea, Diallo grew up with a traveling doctor father and a mother whose family was from Senegal. He picked up music from what he heard around him, rather than the tradition of being instructed by past masters. Diallo was a plant genetics major in college until music became his life. He was band leader of the Sons of Rais at the University of Conakry and toured throughout West Africa.
After graduation, he led a series of other bands before moving to Europe, touring the world, and eventually falling in love with and settling in Vancouver, British Columbia. He came to the attention of Peter Gabriel and his label Real World Records in the late 1980s, when Diallo was the lead guitarist of the band Fatala. Diallo's most recent album, 2010's "Imme," continues a long and distinguished recording career and has won international awards including a Juno (the Canadian Grammy).
Supporting Band: Antióquia
Antióquia is known for its driving fusion of psychedelic rock and rhythms from the African Diaspora. Peppered with fits of improvisation, bouts of silliness, and fiery percussion pieces performed amidst the crowd, an Antióquia show is high-energy, captivating, and anything but predictable.
Birthed in Colombia, bred in the Bay Area, and based in Oakland, Antióquia makes music that inspires raucous dancing and deep listening. With influences ranging from Mahavishnu Orchestra to Afro-Colombian songstress Toto La Mompasina and traditional music from West Africa, Antióquia's primary mission is to unite humans in the healing act of dance. The quintet is singer-keyboardist Rachel Antony-Levine, guitarists Adley Penner and Tomas Salcedo, bassist Paul Martin, and drummer Craig Miller.
Ashkenaz Music & Dance Community Center
1317 San Pablo Avenue
Berkeley, CA 94702
Doors at 8:30 pm; Show at 9:00 pm
$15 advance / $20 day of show / $15 students
Author:
World Music Central News Department
World music news from the editors at World Music Central