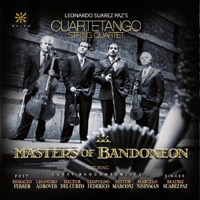 Leonardo Suarez Paz's Cuartetango String Quartet
Masters of Bandoneon (Azica Records, 2012)
Tango junkies should take notice that Azica Records has a new tango recording out entitled Masters of Bandoneon by Leonardo Suarez Paz's Cuartetango String Quartet and a whole host of guest bandoneon players that will have those with weak constitutions swooning. Rich and wonderful, Masters of Bandoneon is artfully unflinching in the sheer mastery of its compositions, as well as the roster of musicians on this recording. Drawing the listener in with flourishes of strings and bandoneon, Masters of Bandoneon goes to the very soulful passion of the tango.
Led by Cuartetango's first violinist and leader Leonardo Suarez Paz, second violinst Sami Merdinian, violist Ron Lawrence and cellist Danny Miller, Masters of Bandoneon play guest of bandoneonists Lisandro Adrover, Hector Del Curto, Leopoldo Federico, Nestor Marconi and Marcelo Nisinman. Other guests include vocalist Beatriz Suarez Paz, pianist Octavio Brunetti and poet Horacio Ferrer.
Dipping into compositions by tango master Astor Piazzolla and those of Mr. Federico, Mr. Marconi, Mr. Suarez Paz and Mr. Adrover, Masters of Bandoneon luxuriates in the tango and let me tell you it doesn't get any better than this. Opening with the intoxicating "Retrato de Julio Ahumada" and moving through such gems as "Milonga de Mis Amores," "Cameratangos" and "Chiquilin de Bachin," this recording simply dazzles. Fans won't want to miss tracks like flirty "Milonga de los Monsters" or the evocative "Moda Tango."
Masters of Bandoneon is passion, sorrow, love and that tango melancholy and fantastically satisfying.
Author:
TJ Nelson
TJ Nelson is a regular CD reviewer and editor at World Music Central. She is also a fiction writer. Check out her latest book, Chasing Athena's Shadow.
Set in Pineboro, North Carolina, Chasing Athena's Shadow follows the adventures of Grace, an adult literacy teacher, as she seeks to solve a long forgotten family mystery. Her charmingly dysfunctional family is of little help in her quest. Along with her best friends, an attractive Mexican teacher and an amiable gay chef, Grace must find the one fading memory that holds the key to why Grace's great-grandmother, Athena, shot her husband on the courthouse steps in 1931.
Traversing the line between the Old South and New South, Grace will have to dig into the past to uncover Athena's true crime.