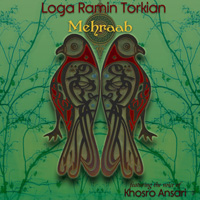 Loga Ramin Torkian
Mehraab (Six Degrees, 2012)
Tehran-born Loga Ramin Torkian left Iran for the United States after the 1979 revolution, but he didn't leave Persian culture behind. Rather, he used his multi-instrumental and compositional skills to bring the music of the radif (traditional/classical Persian repertoire) to a wider audience in the West.
His work with the ensemble Axiom of Choice reflected those Persian roots deeply, which was one reason the band's sound had an enveloping warmth and mystique that appealed to the bulk of the world music crowd. More recently, Loga founded Niyaz with singer Azam Ali (who's also Loga's wife) and electronic mastermind Carmen Rizzo.
The critical success of that band resulted from their dance/trance-inducing blend of Middle Eastern and Indian sounds, acoustic instruments and modern technology. Loga, presently based in Montreal and still reportedly part of Niyaz, has now put out his first solo album. Mehraab ("Shrine") is a hypnotic delight for the same reasons Loga's previous works scored all the right points: he continues to contemporize the music of his Persian past without compromising the authenticity of it. He's joined in the endeavor by singer Khosro Ansari, himself a preserver of ancient Persian sonic treasures.
Ansari's breathy, quivering vocals are enveloped by the many instruments Loga plays, some as traditional as the saz, others as modern as electric guitar. A team of percussionists injects varying levels of rhythm into the songs, which, based on titles like "Garden of the Beloved," "Your Bewitching Eyes" and "The Burning Heart," seem to deal mainly with the sort of earthly/divine love duality celebrated in Sufi poetry. Mixed by Carmen Rizzo, the disc balances its organic and electronic sides smoothly but not too smoothly, making for a release that alternately stirs and relaxes body and spirit.
Author:
Tom Orr
Tom Orr is a California-based writer whose talent and mental stability are of an equally questionable nature. His hobbies include ignoring trends, striking dramatic poses in front of his ever-tolerant wife and watching helplessly as his kids surpass him in all desirable traits.